In the trenches

Sophisticated new gadgets helped Navy SEALs take down bin Laden

In the daring raid that killed Osama bin Laden, Navy Seals were likely outfitted with latest in high-tech weapons and gadgets; Fox News speculates on five key technologies that could have helped the highly trained members of Navy SEAL Team 6 successfully complete their mission including bomb sniffing dogs, satellite-linked helmet cameras, and modified stealth Black Hawk helicopter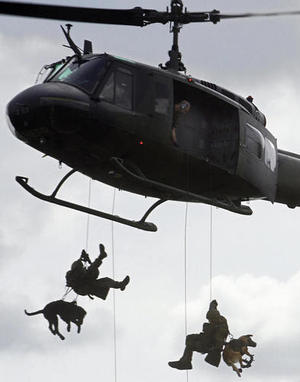 SEALs fast-roping with attached dogs // Source: tumblr.com
In the daring raid that killed Osama bin Laden, Navy Seals were likely outfitted with latest in high-tech weapons and gadgets.
Fox News speculates on five key technologies that could have helped the highly trained members of Navy SEAL Team 6 successfully complete their mission.
Bomb sniffing dogs
As Navy SEALs fast roped into bin Laden's compound, one member had a highly trained bomb sniffing dog attached to him. The dog, most likely a German shepherd, helped SEALs sniff out any potential explosive devices and locate enemies.
To protect their four-legged partner, the dog was outfitted with ballistic body armor and other protective gear to protect it from bullets and shrapnel. In addition, infrared cameras are attached to the dog via a body harness to provide troops with another set of eyes on the ground.
Currently there are roughly 600 dogs serving in Iraq and Afghanistan.
Satellite-linked helmet cameras
Navy SEALs were likely sporting helmet mounted cameras that were broadcasting live video back to American headquarters. These cameras allow commanders to monitor an operation in real time.
President Obama and key members of his cabinet watched a live stream of the raid in the Situation Room.
Hyperspectral image processing
Hyperspectral sensors are able to pick up light across the electromagnetic spectrum, far beyond the capability of a human eye.
By collecting information in a wide array of electromagnetic bands, data can be further divided to provide more detailed information. For instance, certain objects leave a "fingerprint" across the electromagnetic spectrum.
These sensors can even be used in the dark and it is likely that the Black Hawk helicopters that ferried the SEALs into Pakistan were equipped with these types of cameras.
Unmanned stealth surveillance drones
Prior to the raid, unmanned surveillance drones generated thousands of hours of video footage to provide SEALs with the intelligence they needed.
These drones are equipped with a suite of high tech cameras and sensors hyperspectral imaging processors that allow intelligence agencies to conduct valuable reconnaissance without being detected.
Stealth Black Hawk helicopter
Reports indicate that the Navy SEALs used a specially modified stealth Black Hawk helicopter to help evade Pakistan's air defense system.
Photographs of one of the damaged helicopters that was left behind indicate a different tail structure. Usually tail rotors on Black Hawks contain four blades, but the modified version appeared to have five or six, allowing the tail rotor to spin more slowly thereby reducing the loud chopping sound that helicopters usually make.
In addition analysts believe that the modified Black Hawks incorporated elements from a proposed stealth helicopter program that had been cancelled in 2004. Experts believe that changes to the helicopter included special radar absorbing skin and the replacement of sharp edges with gentler curved angles to help scatter radar beams.