UAV update

UAVs fail to penetrate India's dense forests to track Maoist militants

Indian security forces, battling the militants of the Naxals Maoist group, say that UAVs which perform well in the deserts of Iraq and the barren mountains of Afghanistan and Pakistan, are useless in the densely forested areas of eastern India; Indian security experts say that issues concerning internal security in the country have now reached the board room of Indian business companies and that the new technology these companies produce should be able to meet the specific needs of Indian security forces rather than offer something which is not applicable to Indian conditions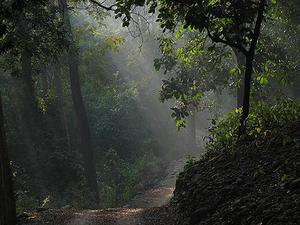 Dense forest, such as above in India's Jim Corbett National Park, provides ideal cover from UAVs // Source: .treehugger.com
UAVs are being used for more and more surveillance and operational missions by more and more militaries and law enforcement units. Security experts in India, however, note that UAVs used successfully by the United States in Afghanistan against al Qaeda have failed to make any impact in the dense forests of India to monitor movement of Naxals, India's Maoist communist rebel group.
Deccan Herald reports that the security forces which are trying various UAVs over the terrain dotted by thick foliage in Maoist-affected states of West Bengal, Chhattisgarh, Orissa, and Andhra Pradesh to track the movement of the militantss have not found a machine which could penetrate the forest cover and give them the desired intelligence.
"We have not been able to acquire any such equipment… surveillance equipment… which would tell the movement of people from air borne vehicles… UAVs… from under the cover of thick foliage," said P. C. Sabarwal, additional director general of the Bureau of Police Research and Development (BPRD), at an internal security conference in Delhi.
The BPRD is the national agency under the central government which looks after modernization of police forces and takes up new areas of research in subjects related to policing.
Sabarwal also said no service provider offering security gadgets have been able to come up with a solution to defuse and detect improvised explosive devices (IEDs) and landmines buried fifteen feet or deeper in areas of combat including Naxal zones. "To our disappointment none of the service providers could come up with a solution (to counter these IEDs)," Sabarwal said while speaking at a CII conference on Safe City — Securing Your World, which opened yesterday in Delhi.
"I would request the participants (business representatives) to apply their mind according to our requirements. We are open to all new ideas and suggestions," he said.
The Chhattisgarh government and the BPRD earlier had carried out a test of a UAV manufactured by an American company, which was used by U.S. troops to track down Taliban militants. This was done in the aftermath of the Dantewada incident in which seventy-five Central Reserve Police Force (CRPF) personnel and a state policeman were killed in a deadly Naxal ambush on 6 April.
Officials had successfully flown the UAV over the dense forests of Bastar in the first trial run for anti-Naxal operations, but the Chhattisgarh government wants to re-test the pilotless planes after the monsoon rains, which will make the jungles even more dense.
Deccan Herald reports that with intelligence gathering still a problem in Naxal areas, the aim of testing UAVs is to help in gathering advanced reconnaissance and situational awareness functions, which are critical in protection of security personnel. Security forces like CRPF, Border Security Force (BSF), and the Indo-Tibetan Border Police (ITBP) along with state police units have been regularly targeted by Naxals in IED blasts. In certain cases, mines and IEDs were buried under tarred roads and triggered when troop convoys went over them.
Speaking on the occasion, retired Maharashtra Director General of Police A. N. Roy said the vendors providing security solutions to police and paramilitary forces should "bring the best in technology."
Roy said that issues concerning internal security have now reached the board room of business companies and the new technology should be able to meet the specific needs of security forces rather than offer something which is not applicable to Indian conditions.
"We still do not have a effective system to track down a suspect vehicle in a busy street," Roy said. Inspector General of BSF Jammu frontier Siddharth Chattopadhaya said the gadgets made by the companies are "misdirected and not focused to our needs and requirements."
Joint Secretary (Police) in ministry of Home Affairs Ashok Lavasa said technology will play a major role in securing cities and the human beings there.