In the trenches

U.S. Army picks Android

Need artillery support? Android has an app for that; or will have, soon enough; while Apple scrambles, Google's Android is picked as the operating system for the U.S. Army's and Marine Corps' smartphones; third-party developers will receive kits in July, with testing scheduled for October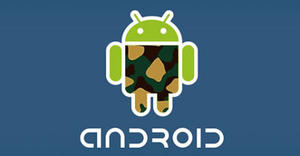 Google's Android platform ready for duty // Source: wordpress.com
While Apple scrambles to calm the fury over the hidden tracking system that was surreptitiously installed in its iPhone and iPad products, Google comes up a winner.
Techzone360.com's Tammy Wolf writes the U.S. Army has decided that its smartphones will use Google's Android platform as the operating system for the device, called the Joint Battle Command-Platform, or JBC-P Handheld. The JBC-P will be previewed to third-party developers in July, which will also see the release of a development kit. It will boast an initial collection of apps that include programs for tactical ground reporting, critical messaging, mapping, and force tracking, along with more universal applications such as contact lists, and the open-source Open Office productivity suite.
PCMag.com reports that warfighters in the field will be able to tag an obstacle or potential target on a map instantly. The location of IEDs, snipers, or weapon and ammunition caches, for example, can be communicated to other soldiers who may be nearby, but are unaware of the presence of these situations.
Following the preview and development kit release in July, the JBC-P will be tested by the 2nd Brigade, 1st Armored Division at White Sands Missile Range in New Mexico this October, and will be rolled out to the Army and Marine Corps at the beginning of fiscal year 2013.
Most importantly, as CNN.com reports that the system is designed to function and communicate over several military networks. It is designed to avoid "stovepiping" issues that tend to plague military and government IT and communication projects.
Ultimately, expectations are that the device will be able to handle a wide range of tasks, from target designation to supply and logistical matters. One of the anticipated benefits is the enhancement and support of medical treatment in the field.