Emergency response

Zombie herd tests Ohio's emergency response capabilities

Published 1 November 2011

On Monday, a horde of ravenous flesh-seeking "zombies" descended upon Wesleyan University and tested the response capabilities of Ohio's emergency personnel; in the spirit of Halloween, Delaware County recruited 225 volunteers to dress up as zombies and participate in a drill designed to help prepare first responders deal with real situations like hazardous material cleanups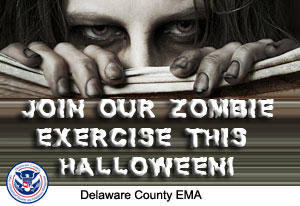 Delaware County EMA's zombie recruitment poster // Source: delaware.oh.us
On Monday, a horde of ravenous flesh-seeking "zombies" descended upon Wesleyan University and tested the response capabilities of Ohio's emergency personnel.
In the spirit of Halloween, Delaware County recruited 225 volunteers to dress up as zombies and participate in a simulated hazardous material cleanup.Using standard decontamination procedures, first responders had to "treat" the zombies and make them "human" once again.
The Ohio zombie exercise was inspired by a popular Centers for Disease Control and Prevention (CDC) blog post that used preparing for a zombie apocalypse as a way to encourage people to begin planning for emergencies. The post urged individuals to create an emergency communication plan and prepare "go bags" filled with food, water, and extra clothing.
According to Maggie Smith of the CDC's public health preparedness office, the blog post generated 30,000 hits in its first day, and local emergency response agencies across the country have run with the idea that if you are prepared for a zombie attack, you are prepared for anything.
Cindi Blair, a human resource employee with Delaware County, said the exercise gave her the opportunity to discuss emergency preparedness with her ten and eleven-year old sons.
"I think it's very creative," Blair said. "I think it puts a little bit of fun in with a serious drill."
Meanwhile, emergency officials in Kansas proclaimed October "Zombie Preparedness Month," and held a "zombie walk" in Topeka over the weekend.
"They had a genius idea, and I definitely wanted to tag on and run with that one," said Devan Tucking of the Kansas Division of Emergency Management. "I couldn't pass up zombies."
Delaware County is the first agency to hold a zombie-themed hazardous materials exercise in Ohio, and state officials are curious to see the results.
"They want to see what lessons we learn, and they like the idea of getting out the zombie preparedness message about bracing for the unexpected," said Jesse Carter, a spokesman for the Delaware County health district. "The other message that we're trying to convey is come be a zombie."
The drill's organizers hoped the zombie theme would help attract more volunteers than other simulations of industrial accidents or train crashes. In addition as an extra incentive, organizers offered prizes for the best zombie costume and makeup as well as the best zombie walk.