Public health

11,000 California parents refuse basic vaccinations for their children

Even with the massive whooping cough outbreak last year in California that sickened more than 9,100 people and killed ten babies, over 11,000 hesitant parents chose not to vaccinate their children against the infectious disease; with record numbers of children going unvaccinated, there have been an increasing number of outbreaks of highly infectious diseases like measles and whooping cough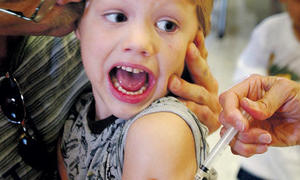 Vaccination refusal is becoming more common // Source: sott.net
Even with the massive whooping cough outbreak last year in California that sickened more than 9,100 people and killed ten babies, over 11,000 hesitant parents chose not to vaccinate their children against the infectious disease.
In recent years, highly infectious diseases – like measles and whooping cough that have largely been marginalized thanks to childhood vaccinations – have made a resurgence in the United States as a result of more parents choosing not to inoculate their children. For instance, last week, there were twenty-eight reported cases of measles in California alone, a ten-year high.
In response to last year's whooping cough epidemic in California, the worst since 1947, state lawmakers passed a law requiring all children from grades seven to twelve be vaccinated against the disease. But, despite the law, more than 11,000 elementary school students are entering schools unvaccinated with parents citing the personal belief exemption to circumvent the requirement.
Last year, 2.5 percent of the state's 450,000 kindergarteners missed at least one vaccination, making it the state's highest rate of declined vaccinations since 1978.
John Talarico, the chief of the immunization branch for the California Department of Public Health, explained the recent increase in vaccine exemptions stems from misinformation that has led to a false panic.
"We really think a lot of it is due to honest, valid concern that parents do the best thing for their child coupled with misinformation that gets out through various forms of communication," he said.
Most notably, the measles, mumps, and rubella vaccine was rumored to cause autism and notable celebrities began a crusade against the vaccine. With many parents choosing not to vaccinate their children, more and more measles outbreaks have cropped up across the United States.
Of the twenty-eight reported measles cases last week, twenty-two people were either unvaccinated or did not know of their vaccine status.
Doctors and public health officials have emphatically declared vaccines as a safe and reliable means to preventing diseases with little risks.
Last month, the Institute of Medicine published its comprehensive safety review of vaccines and concluded that there is no link between vaccines and autism or diabetes. The study did find that in very rare cases, some vaccines could result in side effects like fever-induced seizures and occasional brain inflammation.
Talarico hopes that the rising number of outbreaks and the number of reported deaths from last year's whooping cough outbreak will encourage parents to inoculate their children.
"When people can see disease around them, it generally drives them to think about the benefit the vaccine can give their children versus whatever else they hear," he said.
Unvaccinated children often tend to appear in clusters of like-minded parents who choose to forego immunizations, putting the rest of the community at risk.
"When we see these clusters, that represents the possibility of transmission of disease more quickly and in a more sustained fashion," Talarico said.
In 2008, a cluster of unimmunized children in San Diego led to an outbreak that infected twelve. Of the twelve, nine had not been inoculated due to their parent's objections, while the three others had been too young to be immunized.