Climate and security

2010's world weather extremes: quakes, floods, blizzards

Published 21 December 2010

Earthquakes, heat waves, floods, volcanoes, super typhoons, blizzards, landslides, and droughts killed at least a quarter million people in 2010 — the deadliest year in more than a generation; more people were killed worldwide by natural disasters in 2010 than have been killed in terrorism attacks in the past forty years combined; disasters from the Earth, such as earthquakes and volcanoes "are pretty much constant," said Andreas Schraft, vice president of catastrophic perils for the Geneva-based insurance giant Swiss Re. "All the change that's made is man-made."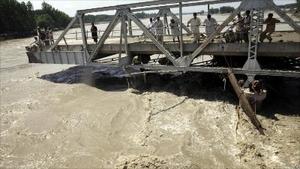 Pakistani floods an example of increased disasters // Source: thewe.cc
The year which coming to an end was the year the Earth appears to have struck back. Earthquakes, heat waves, floods, volcanoes, super typhoons, blizzards, landslides, and droughts killed at least a quarter million people in 2010 — the deadliest year in more than a generation. More people were killed worldwide by natural disasters this year than have been killed in terrorism attacks in the past forty years combined. "It just seemed like it was back-to-back and it came in waves," said Craig Fugate, who heads the U.S. Federal Emergency Management Agency (FEMA). It handled a record number of disasters in 2010.
"The term '100-year event' really lost its meaning this year."
ABC News quotes scientists and disaster experts to say that we have ourselves to blame most of the time. Even though many catastrophes have the ring of random chance, the hand of man made this a particularly deadly, costly, extreme, and weird year for everything from wild weather to earthquakes.
Poor construction and development practices conspire to make earthquakes more deadly than they need be. More people live in poverty in vulnerable buildings in crowded cities. This means that when the ground shakes, the river breaches, or the tropical cyclone hits, more people die.
Disasters from the Earth, such as earthquakes and volcanoes "are pretty much constant," said Andreas Schraft, vice president of catastrophic perils for the Geneva-based insurance giant Swiss Re. "All the change that's made is man-made."
The January earthquake that killed well more than 220,000 people in Haiti is a perfect example. Port-au-Prince has nearly three times as many people — many of them living in poverty — and more poorly built shanties than it did twenty-five years ago. So had the same quake hit in 1985 instead of 2010, total deaths would have probably been in the 80,000 range, said Richard Olson, director of disaster risk reduction at Florida International University (see "Haiti's lack of building standards major contributor to scope of disaster," 18 January 2010 HSNW).
In February, an earthquake that was more than 500 times stronger than the one that struck Haiti hit an area of Chile that was less populated, better constructed, and not as poor. Chile's bigger quake caused fewer than 1,000 deaths ("The lessons of Chile earthquake to California building code," 5 April 2010 HSNW).
Climate scientists say Earth's climate also is changing thanks to man-made global warming, bringing extreme weather, such as heat