Gulf of Mexico oil spill

40,000-plus barrels per day pouring into Gulf

Since the 20 April explosion of the Deepwater Horizon well, BP has insisted that the amount of oil being spilled into the gulf was no more than 5,000 barrels a day; U.S. government scientists yesterday corrected the company's assertions, saying that amount is at least 40,000 barrels, if not more; the 1989 Exxon Valdez spilled 10.8 million gallons of oil into Alaska's Prince William Sound; there are 42 gallons in a barrel of oil, so 40,000 barrels mean 1,680,000 gallons; this means that since 20 April, the BP well has released oil into the Gulf at a rate of one Exxon Valdez every 6.5 days; in other words, between 20 April and 3 June, when the well's riser was cut, a quantity of oil equal to seven Exxon Valdez has been spilled into the Gulf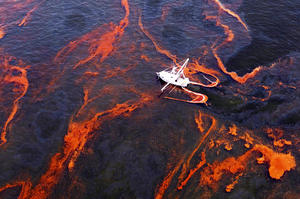 Skimmer boat capturing surface oil // Source: nydailynews.com
During the first month of the Deepwater Horizon oil spill, BP insisted that the amount of oil gushing into the gulf was no more than 5,000 barrels a day. To make sure that these figures could not be independently examined, the company refused to allow access to its video images of the wellhead. The company could not stall forever, though: the spread of the oil sleek on the surface can be measured from satellites that the company does not control, and since only a small fraction of the oil rises to the surface — the rest gathers in huge underwater "plumes" which, over time, disintegrate into billions of tar balls of different sizes — the U.S. National Oceanic and Atmospheric Agency (NOAA) soon began to assert that the amount of oil being spilled is closer to 20,000 barrels a day.
U.S. officials said yesterday that the amount of oil coming out of the well is double the earlier government estimates, and that as much as 40,000-plus barrels of oil per day are pouring from BP's ruptured well.
"The lowest estimate that we're seeing that the scientists think is credible is probably about 20,000 barrels, and the highest that we're seeing is probably a little over 40,000," Marcia NcNutt, director of the US Geological Survey and chair of a U.S.-government-led flow rate assessment team, told reporters.
NcNutt said that the figures — which estimate the flow rate prior to BP cutting a busted riser pipe 3 June in order to attach a containment device — are more than double the previous estimate of 12,000 to 19,000 barrels per day.
By way of comparison: The 1989 Exxon Valdez spilled 10.8 million gallons of oil into Alaska's Prince William Sound. There are 42 gallons in a barrel of oil, so 40,000 barrels mean 1,680,000 gallons. This means that since 20 April, BP's Deepwater Horizon released oil into the Gulf at a rate of one Exxon Valdez every 6.5 days. Thus, between 20 April and 3 June, when the well's riser was cut, a quantity of oil equal to seven Exxon Valdez has been spilled into the Gulf.
U.S. Coast Guard Admiral Thad Allen, who is overseeing response to the worst oil spill in U.S. history, said the containment device captured more than 15,000 barrels in the twenty-four hours ending midnight Wednesday.
There were fears before the pipe, or riser, was cut that the operation could increase the flow by up to 20 percent, although Interior Secretary Ken Salazar told a congressional hearing Wednesday it was probably between four and five percent.