Disasters

42 million displaced by natural disasters in 2010

In 2010 approximately forty-two million people were displaced from their homes due to natural disasters, more than double the number of people forced to relocate in 2009; the latest numbers were calculated by the Internal Displacement Monitoring Centre (IDMC), which found that more than 90 percent of disaster displacements were the result of weather-related events; the number of natural disasters has doubled from roughly 200 to over 400 a year during the last twenty years; the report found that countries on all continents were affected by the increase in natural disasters, but Asian countries have been hit the hardest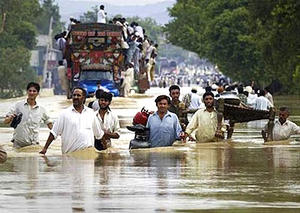 2010 may be recorded as the year of the displaced // Source: the2012source.com
In 2010 approximately forty-two million people were displaced from their homes due to natural disasters, more than double the number of people forced to relocate in 2009.
The latest numbers were calculated by the Internal Displacement Monitoring Centre (IDMC), which found that more than 90 percent of disaster displacements were the result of weather-related events that may have been the result of global warming.
"The intensity and frequency of extreme weather events is increasing, and this trend is only set to continue. With all probability, the number of those affected and displaced will rise as human induced climate change comes into full force," said Elisabeth Rasmusson, the secretary general of the Norwegian Refugee Council. "The humanitarian community will have to be better prepared to respond to large‐scale natural disasters and the displacement that follows. The way that the international response system is set up today, we cannot do so adequately."
According to IDMC the number of natural disasters has doubled from roughly 200 to over 400 a year during the last twenty years.
"This report provides us with evidence of the extent and urgency of the problem that we cannot ignore. We must increase collaborative efforts to prevent displacement by natural disasters, and do a better job of protecting those displaced," Rasmusson said.
In 2009, seventeen million people were displaced by disasters, and in 2008, thirty-six million were displaced. IDMC explained that the large fluctuations in numbers was the result of several large "mega-disasters" like the massive floods in India in 2009, earthquakes in Chile and Haiti, and floods in China and Pakistan.
In China, more than fifteen million people were forced to flee their homes when floods inundated large portions of the country in 2010.
The report found that countries on all continents were affected by the increase in natural disasters, but Asian countries have been hit the hardest. Countries throughout South and south-east Asia including India, the Philippines, Indonesia, and China were among the nations with the most number of people displaced.