Disasters

Arizona wildfire now largest in state's history

The Wallow wildfire in Arizona has continued to burn out of control and is now the largest fire in Arizona's history; on Tuesday firefighters in Arizona reported that they had 18 percent of the fire contained; so far the blaze has burned 479,407 acres in the White Mountains of eastern Arizona; officials have evacuated thousands of residents from mountain towns and are urging residents to stay clear as the smoke has created dangerous air conditions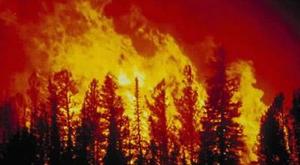 Now qualifies as Arizona's largest wildfire // Source: landairsea.com
The Wallow wildfire in Arizona has continued to burn out of control and is now the largest fire in Arizona's history.
As firefighters across the state struggle to contain the fire, it has made its way to New Mexico stretching emergency responders there as crews battle conflagrations in the northeast along the Colorado border, a blaze in the Carlsbad Caverns National Park, and the fire from Arizona in the state's southwest.
On Tuesday firefighters in Arizona reported that they had 18 percent of the fire contained. So far the blaze has burned 479,407 acres in the White Mountains of eastern Arizona.
While the fire has become Arizona's largest, its damage has been relatively minimal as it is burning in a relatively remote part of the state and therefore only destroyed thirty-one homes. In comparison, the Rodeo-Chediski Fire, now Arizona's second largest fire, destroyed 465 homes.
Officials have evacuated thousands of residents from mountain towns and are urging residents to stay clear as the smoke has created dangerous air conditions.
"When you have a huge incendiary fire of this nature, it burns so hot and it burns things so fine that what people are breathing in are of microscopic size," explained Mark Shaffer, a spokesman for the Arizona Department of Environmental Quality.
The particles floating in the air are primarily charred bits of pine and spruce trees that are only about one-twenty-fifth the width of a human air that can easily become lodged deep inside lungs.
Young children, the elderly, and those with respiratory conditions are at greatest risk.
Resident of New Mexico have been forced to bear the worst as winds blowing east sent the smoke to Albuquerque and even parts of southwestern Texas.
Officials in Arizona are confident that they have contained the fire's progress on the northeastern front, but are still wary as winds could send hot embers into unburned areas and rekindle the fire.
"The fire wanted to go north; we stopped it to the north," said fire operations chief Jerome McDonald. "That is not a guarantee that it's not going to go other directions."
The wildfire has been burning steadily since 29 May and officials suspect that an unattended camp fire may have been the cause.