Epidemics

Australia battling mosquitoes to stop spread of dengue fever

Public health officials in Queensland in northern Australia are actively battling dengue fever following an outbreak of the virus; fifty-five people have been infected in Innisfail and its outlying areas; two cases of dengue fever have been detected in Cairns, 56 miles north of Innisfail; to stem the spread of the disease, public health officials are on a campaign to eradicate mosquitos and their breeding grounds; so far the government has wiped out an estimated 50,000 mosquito breeding sites; in one week, fourteen public health field officers searched 1,117 properties in Innisfail and found 13,628 potential breeding sites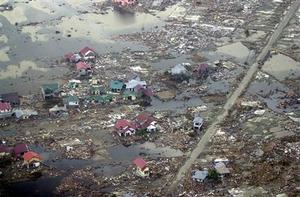 Large-scale flooding means large-scale breeding grounds // Source: evergreen.edu
Public health officials in Queensland in northern Australia are actively battling dengue fever following an outbreak of the virus.
Dengue fever is transmitted by mosquitos and so far fifty-five people have been infected in Innisfail and its outlying areas.
To stem the spread of the disease, public health officials are on a campaign to eradicate mosquitos and their breeding grounds. Dr. Stephen Donohue, a public health medical officer with Queensland Health, said, "It is a bit of trench warfare now to try and bring this under control."
So far the government has wiped out an estimated 50,000 mosquito breeding sites since it began its program in January. In one week, fourteen public health field officers searched 1,117 properties in Innisfail and found 13,628 potential breeding sites.
Public health officials are urging residents to assist in minimizing mosquito populations by getting rid of potential mosquito breeding sites around their homes.
Any stagnant pools of water in drains, furniture, or open containers can be used by mosquitos to lay eggs.
Officials suggest emptying out open containers after it rains and to use bug lights, insect repellent, and bug-proof windows and doors.
Two cases of dengue fever have been detected in Cairns, 56 miles north of Innisfail. Officials have not been able to determine if these cases were related to the Innisfail outbreak.
Dr. Donohue warned that, "Dengue mosquitoes only breed around homes and in urban areas, and not in swamps or creeks. With movement of people between suburbs, dengue fever can easily spread across Cairns if action isn't taken to manage mosquito numbers around the home".
Individuals infected with dengue fever experience symptoms that include high fevers, rashes that resemble the measles, and vomiting. The disease is treatable and only in extreme cases will it result in death.