Cybersecurity

Best 300 U.S. student hackers compete for cybersecurity scholarships, prizes

Published 12 November 2010

The seventh Annual Cyber Security Awareness Week competition at the Polytechnic Institute of New York University; 120 teams from high schools across the country — consisting of 300 of the U.S. best student hackers — competed under the watchful eyes of representatives from the CIA, NSA, DHS, and NSA; the students compete for scholarships and prizes by solving simulated security crises likely to emerge in an increasingly wired world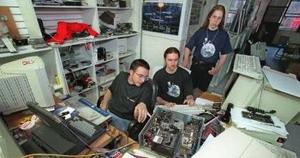 Young hackers in their preferred environment // Source: newsgroper.com
With the CIA, NSA, and DHS looking over their shoulders, the computer hacking teens from Aurora, Illinois did their best to impress.
Recruiters from the CIA, Defense Department, DHS, and the National Security Agency all were in the audience last week as teenage computer whizzes from the Illinois Mathematics and Science Academy (IMSA) in Aurora and other top high schools in the nation joined in a national computer hacking competition. The three-member IMSA team, all from the school's Advanced Computing Association club, placed in the Top 12 among 120 teams from high schools across the country in the seventh Annual Cyber Security Awareness Week competition at the Polytechnic Institute of New York University in Brooklyn.
The Beacon-News reports that the annual event drew 300 of the country's best student hackers along with some of the nation's youngest, top-flight cyber security researchers.
The hacker competition, organized by NYU-Poly cyber security students, has students vying for scholarships and prizes by solving simulated security crises likely to emerge in an increasingly wired world.
The IMSA team included senior Ian McInerney and junior Ben Taylor, both from Champaign, and senior Alex Goins from Springfield. They were accompanied to the competition by faculty sponsor Namrata Pandya, a math and computer science teacher at IMSA for the past six years.
The teens and the Cyber Security Week event are trying to change the negative image of a hacker. The IMSA students emphasize that hackers can also be the "good guys" who write anti-virus software and protect vulnerable networks from attack by those with destructive aims.
Hackers typically can be thought of as "black hats" or "white hats," said Goins. "The black hat hackers do it for destruction or to benefit themselves. Then there are the white hat hackers who are the good guys … the ones who write the anti-virus programs and track down the bad guys.
"It's the same skill set," Goins said. "White hat hackers just apply their skills for good rather than for evil."
The Cyber Security Awareness Week challenges, which legitimize "white hat" hacking, also allow students to envision their computer talents as a possible career path that will hopefully "draw the black hat hackers over to the good side," Goins said.
The Beacon-News notes that although college students have always participated in the event, this was just the second year that it was opened to high school students — and the first year for IMSA to compete