Border security

Border agents corrupted while FBI and DHS wrangle for power

Using sex and money, Mexican drug cartels have been increasingly successful in corrupting U.S. border agents while the federal government has struggled to stop it; since 2004 CBP has made 127 arrests or indictments against border agents for acts of corruption which include "drug smuggling, alien smuggling, money laundering, and conspiracy"; jurisdictional turf wars between the FBI and the DHS Inspector General have limited the government's ability to investigate and prosecute corruption cases effectively; corruption is still relatively limited given the size of the U.S. border force — more than 20,000 agents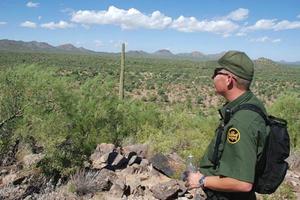 CBP agents increasingly allow drugn and human smuggling // Source: oxfordpress.com
Using sex and money, Mexican drug cartels have been increasingly successful in corrupting U.S. border agents while the federal government has struggled to stop it.
Last week before a Senate Homeland Security and Governmental Affairs subcommittee hearing, DHS officials said that Mexican cartels were seeking to generate "systemic corruption" in U.S. Customs and Border Patrol agents (CBP). In response, the agency has been forced to investigate hundreds of its employees. According to Alan Bersin, the head of CBP, since 2004 his agency has made 127 arrests or indictments against border agents for acts of corruption which include "drug smuggling, alien smuggling, money laundering, and conspiracy."
Charles Edwards, DHS's acting inspector general, said that to corrupt border officials, cartels have used "cash bribes, sexual favors, and other gratuities in return for allowing contraband or undocumented aliens through primary inspection lanes or even protecting or escorting border crossings."
Corruption is still relatively limited given the size of the U.S. border force – more than 20,000 agents. But efforts to limit corruption have been hampered by the rash of new recruits. Since 2004, CBP has nearly doubled in size making it difficult to properly screen new agents.
Only 10 percent of border patrol agents have undergone polygraph tests and of those tested, 60 percent were found unsuitable for the job. These results suggest that many of the agency's new hires could be unfit for patrol or susceptible to corruption.
In reference to the sharp increase in new recruits, Bersin said, "CBP found that its workforce was younger, less experienced, and in need of seasoned supervisors."
"The accelerated hiring pace under which we operated between 2006 and 2008 – and, frankly, mistakes from which we are learning – exposed critical organizational and individual vulnerabilities within CBP," he added.
The Subcommittee hearing also revealed that jurisdictional turf wars between the FBI and the DHS Inspector General have limited the government's ability to effectively investigate and prosecute corruption cases.
Edwards has pulled out of the federal Border Corruption Task Force and will not rejoin until the Inspector General's office is recognized as the primary agency in charge of handling CBP corruption cases.
Speaking at the Senate hearing, Edwards explained that last May, "the FBI in San Diego presented the [inspector general] with a [memorandum of understanding]…which failed to take into account the [inspector general's] statutory responsibility for supervising, leading, and coordinating criminal investigations…and interfering with our oversight responsibility with respect to component internal affairs offices."
Edwards added, "Within [the Homeland Security department], all allegations of criminal misconduct by employees must be referred to [the Inspector General]. The [memorandum of understanding], as drafted by the FBI, requires [the Homeland Security department] participating agencies to provide the same information directly to the FBI. This duplication in reporting is not an efficient use of [Homeland Security department] or FBI resources, and opens the door for parallel investigations placing agent safety at risk."
In an interview after the hearing, Bersin said he was hopeful that the FBI and the DHS Inspector General would soon reach an agreement.
"The acrimony of the past, I think, has given away to a professional spirit of collaboration," he said.
Senator Mark Pryor (D – Arkansas), the chair of the subcommittee hearing, urged the agency to quickly resolve the issue.
"We must conduct these investigations in an efficient and collaborative way that leads to results in the quickest way possible. Based on reports, this does not seem to be the way we are currently operating," he said.
Edwards has signaled a willingness to rejoin the Border Corruption Task Force, but the FBI and the Inspector General have yet to reach an agreement on what conditions his office will rejoin the task force.