China syndrome

China overwhelming U.S. with counterfeit goods

U.S. companies are losing hundreds of millions of dollars a year in sales from products that are counterfeited overseas and shipped to America; since most fake products are never seized by authorities, the federal government cannot get an accurate measurement of the economic loss; according to CBP, these fake goods "threaten America's economic vitality and national security, and the American people's health and safety"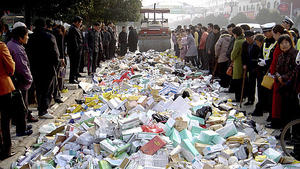 Chinese prepare for public destruction of counterfeits // Source: allianz.com
In FY 2009, there were 14,841 seizures of counterfeit goods and unlicensed knock-offs imported into the United States, with a domestic value of $260.7 million. Goods from China accounted for 79 percent of the total domestic value for all goods seizures. Some economists say 8 percent of China's GDP comes from the sales of counterfeit goods, from software to designer clothing. In 2009, just under $99.8 million worth of counterfeit footwear was seized entering the United States, by far the greatest amount of any product. Footwear accounts for 38 percent of all counterfeit seizures with most having originated in China. This was the fourth year in a row that footwear was the top commodity seized.
Consumer electronics, such as cell phones, digital music players, and cameras, made up 12 percent of all seizures worth nearly $32 million. China produces most of these electronics, with approximately $18.5 million worth of seizures originating from there. Consumer electronics are also the most popular illegitimate product coming out of Hong Kong, second only to China. They make up 40 percent of all counterfeit goods that are intercepted from Hong Kong.
CBP seized $21.5 million worth of counterfeit handbags, wallets, and backpacks coming into the country. This accounts for 8 percent of all seized counterfeit commodities. China exported $19.5 million of these goods.
There was only slightly less apparel seized than handbags, wallets and backpacks. The amount exported from China is also similar, worth $17.9 million. Counterfeit apparel is most often made to resemble designer fashion brands such as Polo Ralph Lauren.
Approximately $15.5 million in watches and watch parts were seized in 2009. The majority of these items (just over $7.9 million in value) came from Hong Kong. The industry is currently flooded with replicas of every Rolex model available, as well as Panerai, and Omega models.
Over $12.5 million worth of computers and components was seized in 2009 — almost double the amount taken the year before. Counterfeit computers and parts can work poorly, corrupt a user's data, or even blow up. According to the Alliance for Gray Market and Counterfeit Abatement (AGMA), up to 10 percent of all high-tech products sold worldwide are counterfeit.
In 2008, just under $6 million worth of "bootleg" media, including compact disks and DVDs, was seized entering the country. In 2009, that jumped to just over $11 million. Approximately half of these goods came from China.
Slightly more than $11 million worth of pharmaceuticals were seized in 2009, most of which came from China. Pharmaceuticals also accounted for 86 percentof all counterfeit goods coming from India.
According to CBP, pharmaceuticals were the top commodity presenting "potential safety or security risks." Pharmaceuticals account for 34 percent of all the items in this security risk category, which also includes electrical articles (power cords, lights) and critical technology components such as networking equipment, and semiconductor devices ("Detecting counterfeit pharmaceuticals" 14 September 2009 HSNW).
Approximately $10.5 million worth of fake jewelry was seized in 2009. One popular means of counterfeit jewelry distribution is through online auction sites. Tiffany & Co. lost a lawsuit against eBay this past September regarding the sale of counterfeit Tiffany jewelry on its site. The court said that ultimately it is the responsibility of the trademark holder to monitor instances of trademark infringement.
Of the $5.5 million worth of toys and electronic games that were seized in 2009, just under $4.9 million came from China. Counterfeit toys have the potential of being extremely dangerous. Some are made with poisonous materials, such as lead, and others can malfunction and hurt children, such as electronic toys that overheat or even explode.