Infrastructure protection

Climate change and cities: a wake-up call

More than half the world's population live in cities, many of which are increasingly vulnerable to the impacts of climate change; cities, however, are also emerging as the innovative "first responders" in dealing with climate change; climate change will stress cities in many ways — there will be more heat waves, threatening the health of the elderly and infirm; droughts will also become more commonplace in many cities, while in coastal communities too much water may be the problem, due to sea-level rise and more extreme coastal flooding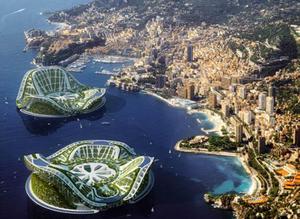 Lilypad cities as a way to deal with coastal inundation // Source: pelanatureza.pt
More than half the world's population live in cities, many of which are increasingly vulnerable to the impacts of climate change. Cities, however, are also emerging as the innovative "first responders" in dealing with climate change, says a major new report led by researchers at Columbia University and the City University of New York (CUNY) and published by Cambridge University Press.
The report, Climate Change and Cities: First Assessment Report of the Urban Climate Change Research Network (ARC3), is a comprehensive study detailing the risks global cities face owing to a warming world. A Columbia University release notes that the report, which includes contributions from 110 authors in fifty cities, also explains how urban populations are working to reduce their greenhouse gas emissions and prepare for the impact of climate change, such as increased heat waves, drought, and flooding. Climate trends and projections for twelve cities in Africa, Asia, Latin America, and the United States, including Athens, Dakar, Delhi, Harare, Kingston, London, Melbourne, New York, São Paulo, Shanghai, Tokyo, and Toronto, are analyzed in depth.
"This study should serve as a wake-up call about the need to make cities a key focus of global climate change research and response efforts," stated Cynthia Rosenzweig, a climate impacts scientist at the NASA Goddard Institute for Space Studies and the Center for Climate Systems Research, part of the Earth Institute at Columbia University, as well as one of the co-editors of the report. Work on the report was convened by the Urban Climate Change Research Network (UCCRN), a global coalition of researchers specializing in climate change from an urban perspective. UCCRN was founded at the Earth Institute in 2007.