Financing terrorism

Combating the financing of terrorism

Published 14 September 2011

Terrorist organizations rely on financing and support networks to sustain operations and launch attacks. The U.S. Department of the Treasury has developed a sophisticated and comprehensive approach to identify, disrupt, and deter the funding networks of terrorist organizations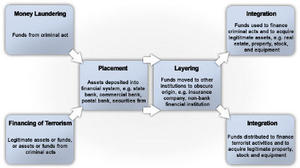 terror financing schematic // Source: gc.ca
Terrorist organizations rely on financing and support networks to sustain operations and launch attacks. The U.S. Department of the Treasury's Office of Terrorism and Financial Intelligence (TFI) says it has developed a sophisticated and comprehensive approach — including intelligence analysis, sanctions administration and enforcement, financial regulatory action, policy expertise, and outreach to the international community and financial sector — aggressively to identify, disrupt, and deter the funding networks of terrorist organizations. Since 9/11, efforts to counter terrorist financing have played an increasingly critical role in our broader counterterrorism strategy. The establishment and growth of TFI since 2004 has strengthened and integrated various authorities in their pursuit of a comprehensive approach to countering terrorist financing.
Among TFI's activities, programs, and capabilities:
— Intelligence analysis: Established in 2004, the Office of Intelligence and Analysis (OIA) remains the only full-fledged intelligence office in any finance ministry in the world. OIA serves Treasury's specialized intelligence needs, providing analytic products tailored to TFI's mission and Treasury's authorities.
OIA makes intelligence actionable by supporting designations of terrorists, weapons proliferators, and drug traffickers and by providing information to support Treasury's outreach to foreign partners. OIA also serves as a unique and valuable source of information to the Intelligence Community (IC), providing economic analysis, intelligence analysis, and Treasury intelligence information reports to support the IC's needs.
— Targeted actions: Treasury has numerous authorities to take targeted action against terrorists, weapons proliferators, narcotics traffickers and their supporters, and isolate them from the U.S. financial and commercial systems. These domestic authorities include Executive Order 13224 (terrorism), Executive Order 13382 (proliferators) and the Foreign Narcotics Kingpin Designation Act (narcotics traffickers), among others.
— Bilateral engagement: Treasury continues to engage with key foreign governments to disrupt and dismantle external funding sources to extremists, including through information sharing and coordinated enforcement actions. Enhanced bilateral engagement with Saudi Arabia and other partners in the region, along with comprehensive private sector outreach has yielded real action, including arrests and prosecutions of terrorist financiers and facilitators and more robust controls on funding streams emanating from those countries to extremists in Afghanistan and Pakistan.
— Attacking the finances of terrorists in Afghanistan and Pakistan: Denying the Taliban and other terrorist groups in Afghanistan and Pakistan access to funds has long been a priority within TFI. Treasury has intensified its efforts in this arena over the past year as part of the President's enhanced strategic focus in this critical region. Our approach is grounded in