Border security

Degree of illegal immigrants' involvement in smuggling drugs, other crimes uncertain

There are about 500,000 illegal immigrants living in Arizona; Governor Jan Brewer's recently said that the majority of them are "drug mules" and linked them to beheadings; exploring any link between illegal immigration and other crimes is difficult, however, and there is little in the way of reliable data that indicate what crimes immigrants may commit after crossing the border illegally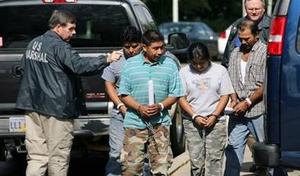 Illegal immigrants following a court appearance in Virginia // Source: earthhopenetwork.net
Arizona governor Jan Brewer's recent statements linking illegal immigration to drug smuggling and beheadings have again put the focus on the connection between Arizona's porous border and criminal activity.
Exploring any link between illegal immigration and other crimes is difficult, however. The Arizona Republic's J. J. Hensley writes that there is little in the way of reliable data that indicate what crimes immigrants may commit after crossing the border illegally. That uncertainty makes it easy for politicians and advocates to make bold statements that are nearly impossible to confirm or refute.
Brewer's statement that "we all know that the majority of the people that are coming to Arizona and trespassing are now (becoming) drug mules" fits neatly into a category of claims that are hard to verify.
"I wouldn't know how to begin to validate those statistics," said Lt. Jeff Palmer of the Pima County Sheriff's Department's border-crimes unit, which focuses on violent crime associated with human and drug smuggling.
Longtime smuggling routes for people and narcotics have been taken over by drug cartels, Palmer said — but "there's no way of telling how many illegal aliens are smuggling drugs," he said. "We do know there are a significant amount who don't have the ability to pay for entry into the United States and one way they pay for entry is by carrying drugs."
Crime data
Hensley notes that the lack of reliable data is largely because of the way immigration laws are enforced. Various federal agencies work with state and local law-enforcement agencies to target "criminal aliens." They prefer to escort most illegal border crossers out of the country as quickly as possible, without gathering criminal information unless the crossers are high-level offenders.
One way to gauge criminal behavior of illegal immigrants is to look at how many have been convicted of serious crimes. According to the state Department of Corrections, 6,010 illegal immigrants are in state custody, including more than 2,000 who were convicted of drug violations serious enough to result in a prison sentence instead of a short stay in jail.
Of the 34,000 remaining inmates in state custody, the largest portion, more than 6,000, also are being held on drug charges.
With an estimated 500,000 illegal immigrants living in Arizona, those convicted of serious crimes are small in number; those guilty of large-scale drug crimes, even smaller.
Hensley writes that in the past eighteen months at Maricopa County jails, among those inmates suspected of being in