Disasters

Disaster relief innovation: concrete tent

Among innovations which could help relief efforts following major disasters is a fabric shelter that, when sprayed with water, turns to concrete within twenty-four hours; the system works by impregnating cement particles into a fabric from which the tent is made; when the folded tent arrives at the disaster area, it is unrolled, tacked down with stakes, and then filled with air via a fan; once in place, the tent is soaked with water and then left to dry for twenty-four hours; once the concrete hardens, the tents can last for up to ten years; the tents come with installable doors, and since the walls are hard, electrical outlets and plumbing pipes can also be installed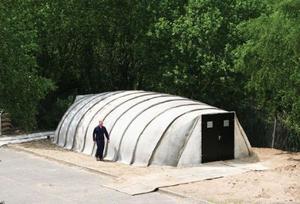 One version of concrete/canvas tent // Source: theaffiliateblogger.co.uk
The past eighteen months have seen a distressing number of humanitarian crises with earthquakes in Japan and floods in New Zealand AND Pakistan, and deadly tornadoes in the southern United States. If we go back twenty-eight months, we can include the earthquakes in Haiti, China, and Chile.
Where there is a need, there innovation, and the BBC reports that among innovations which could help relief efforts is a fabric shelter that, when sprayed with water, turns to concrete within twenty-four hours. Invented by Will Crawford and Peter Brewin, two engineers who met while at the Royal College of Art in London, Concrete Canvas allows aid teams to construct solid structures in emergency zones quickly and easily.
The system works by impregnating cement particles into a fabric. The fabric is then sewn together and affixed to an inner plastic coating that serves as a bladder for holding air when it is pushed in by a fan. When the folded tent arrives at the disaster area, it is unrolled, pulled out, tacked down with stakes, and then filled with air via a fan. Once in place, the tent is soaked with water and then left to dry for twenty-four hours. Once the concrete hardens, the tents can last for up to ten years.
The tents come with installable doors. Since the walls are hard, electrical outlets and plumbing pipes can also be installed.
In an interview with the BBC, the two inventors of the material, Will Crawford and Peter Brewin, showed how the concrete tent is put together.
There is a catch, though. At the moment the concrete tents cost at least £10,000 ($16,000) each. Brewin concedes this is expensive for non-governmental organizations – and, for that matter, for governments as well.. He describes the situation as "chicken and egg": "If we were manufacturing volumes… we'd be able to cut a substantial amount of that cost out," he says. "But to get those orders in, we'd need to already be much cheaper."
The BBC goes to describe several other life-saving innovations aiming to cope with the need to privde quick relief to a vast number of people, and do so in a hurry. Here are four more inventions which, as the BBC put it, have come out of left field and gone on to save live: