Planetary safety

Double whammy: dinosaurs killed by massive volcanoes, meteorite impacts

Published 21 November 2011

The mass extinction of the dinosaurs, which occurred at the end of the Cretaceous period sixty-five million years ago, was the result not of one catastrophic event (meteorite strike) but rather the result of a catastrophic one-two punch: colossal volcanic eruptions and meteorite strikes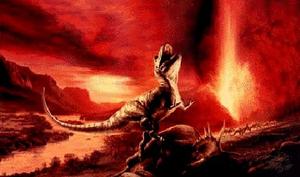 Meteorites and volcanoes led to dinosaurs demise // Source: xanga.com
The mass extinction of the dinosaurs, which occurred at the end of the Cretaceous period sixty-five million years ago, was the result not of one catastrophic event (meteorite strike) but rather the result of a catastrophic one-two punch: colossal volcanic eruptions and meteorite strikes. This is the conclusion of two Princeton University reports that reject the prevailing theory that the extinction was caused by a single large meteorite.
A Princeton University release reports that Princeton-led researchers found that a trail of dead plankton spanning half a million years provides a timeline that links the mass extinction to large-scale eruptions of the Deccan Traps, a primeval volcanic range in western India that was once three-times larger than France. A second Princeton-based group uncovered traces of a meteorite close to the Deccan Traps that may have been one of a series to strike the Earth around the time of the mass extinction, possibly wiping out the few species that remained after thousands of years of volcanic activity.
The release notes that researchers led by Princeton Professor of Geosciences Gerta Keller report this month in the Journal of the Geological Society of India that marine sediments from Deccan lava flows show that the population of a plankton species widely used to gauge the fallout of prehistoric catastrophes plummeted nearly 100 percent in the thousands of years leading up to the mass extinction. This eradication occurred in sync with the largest eruption phase of the Deccan Traps — the second of three — when the volcanoes pumped the atmosphere full of climate-altering carbon dioxide and sulfur dioxide, the researchers report. The less severe third phase of Deccan activity kept the Earth nearly uninhabitable for the next 500,000 years, the researchers report. A substantially weaker first phase occurred roughly 2.5 million years before the second-phase eruptions.
— Read more in B. Gertsch et al., "Environmental effects of Deccan volcanism across the Cretaceous–Tertiary transition in Meghalaya, India," Earth and Planetary Science Letters 310, nos. 3-4 (15 October 2011): 272-285 (doi:10.1016/j.epsl.2011.08.015)