Epidemics

Satellites helping to track disease outbreaks

Published 13 December 2011

Using satellite images of city lights at night, Princeton researchers have developed a new method to track infectious disease outbreaks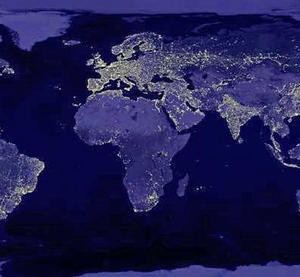 Study shows correlation between spread of disease and lighting // Source: columbia.edu
Using satellite images of city lights at night, Princeton researchers have developed a new method to track infectious disease outbreaks.
The researchers examined a series of U.S. Department of Defense satellite images taken at night of Niger's three largest cities from 2000 to 2004 and when compared to public health records found there was a clear correlation between measles outbreaks and the most brightly lit areas.
Researchers believe this method will be particularly helpful in tracking outbreaks with transient populations, especially in Africa and Asia.
"Temporary and seasonal migrants are very hard to measure," said Deborah Balk, a professor at the City University of New York. "The night lights are an important source of data for Africa and Asia, especially, where data is sometimes absent or poor."
According to Nita Bharti, the study's lead author, using satellite images to follow migratory populations is a novel technique as these images were primarily used to track stable populations in the past.
"This is the first use, so we had to develop the method ourselves," she said.
Bharti and her team first came up with the idea of using satellite images after they found that measles epidemics occur most often during Niger's dry season when many farmers migrate to urban areas. The researchers concluded that the severity of outbreaks were linked to shifts in population density and not lower rainfall or other environmental factors.
With the help of the satellite images and special analysis software, Bharti was able to quantifiably prove her theory.
The researchers are now looking to combine the satellite images as well as other population trackers like cell phone usage statistics to improve accuracy.
Bharti believes that public health authorities will be able to use her technique to not only examine measles but other epidemics as well to better inform their intervention strategies.