Hospital security

Spike in violent incidents in hospitals

Published 23 January 2012

Over the past decade, hospitals across the nation have been subject to an alarming increase in violent incidents; in the last five years alone, there has been nearly a 300 percent increase in the number of reported homicides, assaults, and rapes compared to the previous five years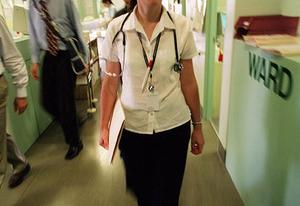 Nurses are particularly concerned about the increase in hospital violence // Source: hestand.org
Over the past decade, hospitals across the nation have been subject to an alarming increase in violent incidents. In the last five years alone, there has been a nearly 300 percent increase in the number of reported homicides, assaults, and rapes compared to the previous five years.
"There was that day when hospitals were safe havens but what we've seen in the past eight or ten years is that has shifted," said George Mills, director of engineering at the Joint Commission, which accredits more than 19,000 hospitals nationally. "People will now go to hospitals to finish whatever [crimes] may have started somewhere else. Hospitals have more lock-down situations."
According to statistics from the Joint Commission, there were 177 reported assaults, rapes and homicides at hospitals in the last five years, compared with 61 cases in the previous five years. The actual number of violent incidents is likely higher as many go unreported.
Most recently, on 6 January, a man walked into the intensive care unit of a hospital in Fort Oglethorpe, Georgia and killed his estranged wife and mother-in-law.
"Every hospital across the country is probably reviewing their security this morning," said Gregg Gentry, the head of human resources at Erlanger Health System, the hospital where the shooting occurred, following the incident. "As these situations happen, it makes us pause and think through everything. It is our goal to provide the safest environment for our staff, patients and visitors."
Securing hospitals is a particular challenge as a delicate balance must be struck between security and openness as they are primarily places of healing with family members and employees freely passing in and out.
"Hospitals are literally a powder keg," said Bryan Warren, director of the International Association for Healthcare Security and Safety. "They are open twenty-four hours a day, seven days a week, 365 days a year. It can be a very emotional place."
Security threats vary widely from hospital to hospital, ranging from gang violence in large urban facilities which treat patients involved in gangs to drunk and disorderly conduct.
There is currently no national standard or guidelines for hospital security, so safety measures differ from hospital to hospital with some relying on armed guards and metal detectors and others using unarmed guards and security cameras.
As part of its accreditation process, the Joint Commission visits each hospital to assess its security policies and procedures.
"We go out and survey the building," said Mills. "If the hospital says they challenge people who come into the emergency room, we walk into the emergency room to see if that is actually happening."
In a June 2010 study, the Joint Commission noted that several problems lead to violence in health care facilities including poor leadership and a lack of staff training. In 62 percent of violent incidents, poor leadership, particularly in terms of policy and procedure, was to blame, while in 60 percent of incidents, lack of training and other human resources issues were to blame.
Despite the spike in violence in recent years, technology and an increased attention to security following 9/11 have created a far more secure environment than in the past.
"There is no comparison with what we have in place now," said Glen Johnson, who, in 1994, took over as the head of security at Memorial Hospital in Georgia.
According to Warren, even with improvements in technology and procedures, the key to maintaining security in hospitals is a general level of awareness from every employee including volunteers in the gift shop to doctors.
"You have to get everyone involved to increase that collaborative environment," Warren said. "Anything can happen anywhere. We need to get out of the mindset that if it hasn't happened yet, it won't."