Disasters

Floating life capsule can save lives in tsunami

Published 25 January 2012

Following the devastating earthquake and tsunami that left roughly 20,000 people dead in Japan, Japanese engineers have been hard at work developing innovative solutions to help save lives in the event of another major disaster; one such invention is Noah, a floating capsule that holds up to four people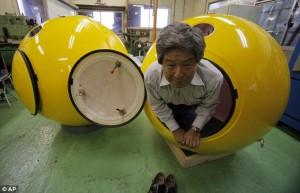 Floating capsules can increase tsunami survival // Source: tercengang.com
Following the devastating earthquake and tsunami that left roughly 20,000 people dead in Japan, Japanese engineers have been hard at work developing innovative solutions to help save lives in the event of another major disaster.
One such invention is Noah, a floating capsule that holds up to four people. Designed by Shoji Tanaka, the head of Cosmo Power, Noah can withstand blows from a sledgehammer, automatically rights itself in water, and can survive a drop of thirty-three feet.
Tanaka, who lives more than 200 miles south of the earthquake's epicenter, was spared, but in volunteering to help clean up the damage, he saw firsthand the destruction caused by the earthquake and tsunami.
Upon returning home, Tanaka began modifying a capsule he had invented three years ago to protect people in the event that their house collapsed during an earthquake. His goal was to create a "temporary refuge" in the event of a tsunami, so individuals inside Noah can be carried along by the water for up to two hours.
Small air ducts provide oxygen, and there is a small window that allows people to see outside.
Tanaka has already received orders for more than 1,000 pods, at $3,800 each, and some have already been delivered.
Eventually Tanaka hopes that Noah will become a typical safety device in most Japanese households.
"It's simple for anyone to have a Noah, and I want as many people as possible to have one."