Nuclear power

Nuclear plant safety questions amid U.S. House primary

Published 25 January 2012

The Davis-Besse nuclear reactor is quickly becoming a key issue in the upcoming 6 March primaries in one Ohio Congressional district that has two senior Democratic representatives facing off against one another as a result of the 2010 census and new district maps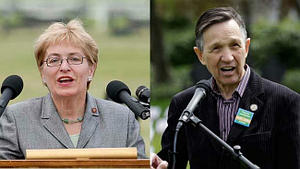 Reps. Marcy Kaptur and Dennis Kucinich battle over the future of a nuclear power plant // Source: solari.com
The Davis-Besse nuclear reactor is quickly becoming a key issue in the upcoming 6 March primaries in one Ohio Congressional district that has two senior Democratic representatives facing off against one another as a result of the 2010 census and new district maps.
Last October, nuclear inspectors discovered several large hairline cracks in the outer concrete walls at the David-Besse nuclear facility located near Toledo. The cracks were located in an outer wall that's primary purpose is to protect the reactor from external impacts like storm debris.
The U.S. Nuclear Regulatory Commission (NRC) permitted the plant's operator FirstEnergy to restart the plant as it deemed the hairline cracks to be harmless, but Representative Dennis Kucinich (D – Ohio), a staunch critic of nuclear power, insists that the plant should be shut down if major repairs are not made.
In contrast, Representative Marcy Kaptur (D – Ohio), Kucinich's opponent in the upcoming primaries, believes the plant is fine the way it is and shutting it down would result in a major economic blow to the community and increase electricity rates. Kaptur was also careful to note that the facility should be closely monitored.
FirstEnergy has been given until the end of February to investigate what caused the cracks.
"Decisions affecting the plant and its safe operation must be based on evidence, not emotion," Kaptur said in a recent meeting with federal regulators.
She added, "Any realistic appraisal will note the importance of Davis-Besse to the local economy. It employs approximately 800 people and contributes hundreds of related jobs."
Some local officials charge that Kucinich has been attempting to politicize the issue, but he maintains that he has been consistently against the plant throughout his career and the latest calls to shutter the plant are unrelated to his campaign or politics.
"My track record is well established," he said. "There's too much at stake here."
"This is about the safety of millions of people and our drinking water," he added.
Ten years ago when an acid leak at the facility caused the most extensive corrosion found in any U.S. nuclear reactor, Kucinich requested that the plant's operating license be revoked.
In the past Kaptur has also been critical of the plant and nuclear regulators, but she recently expressed that she has growing confidence in the inspectors who oversee the plant.
The Davis-Besse nuclear plant generates electricity for roughly 750,000 customers, primarily in Ohio.