Real ID

Real ID deadlines looms

Published 31 January 2012

More and more states have adapted the driver's licenses they issue to meet the requirements of the Real ID Act; several states have not – and they have until 15 January 2013 to do so, or receive an extension from DHS; if these states do not change their driver's license or receive an extension, their residents will need to start getting passports in order to board commercial airlines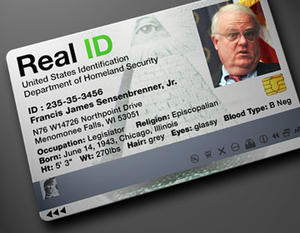 Real ID national identification deadline looms // Source: traducionalist.info
Airport security screeners are beginning to see driver's licenses with gold stars, issued by states which have been certified by DHS as compliant with federal REAL ID standards. These states include Indiana, South Dakota, Delaware, Connecticut, Utah, Alabama, Ohio, Florida, and West Virginia.
In 2008 DHS issued a final rule establishing federal security standards for the issuance of driver's licenses and IDs, implementing a federal law passed in 2005. Beginning in 2009 and continuing to the present, a succession of states have changed their driver's license procedures to comply with these regulations. The Coalition for a Secure Driver's License (CSDL) says it has tracked those upgrades, and says that more than half of the states are close to joining the club that is authorized to place a gold star on its driver's licenses and IDs.
CSDL notes that the dozen states that have done little or nothing to comply with the federal REAL ID requirements should be looking at the calendar. These states have less than a year remaining to notify DHS that they will begin reforming their driver's license rules, or their residents will need to start getting passports in order to board commercial airlines.
The federal deadline for states to notify DHS that they have "substantially compliant" with the rules is 15 January 2013. The REAL ID Act of 2005 prohibits federal agencies from accepting non-compliant driver's licenses "for identification purposes" after the deadline.
DHS secretary Janet Napolitano, who in 2011 extended the deadline by one year, testified before the Committee on the Judiciary of the U.S. House of Representatives that she would not further extend the deadline. She also testified that twenty-two states were already compliant.
Brian Zimmer, president of CSDL, noted, "Most Americans won't be affected, either because their state's driver's license requirements now meet the standards, or because their respective governors and state officials have formally assured DHS they are on the road to compliance."
The DHS secretary has the authority to provide extensions to individual states, as long as the state has provided a self-certification that it intends to comply. Most states have sent letters to DHS stating that they will comply. A handful of states, however, have indicated that they will not comply because their legislatures have enacted laws that prohibit them from complying with the REAL ID Act.
This last group includes, at a minimum, Montana, Washington State, Minnesota, Oklahoma, Arizona, Louisiana, and Alaska. New Mexico has no prohibitions against compliance, but has been unable to revise state laws to meet the lawful presence requirements set by the federal driver's license rules. Oregon's legislature considered law changes needed for federal compliance in 2011, as did Illinois, but the legislation failed in both states.
Zimmer noted that even states that have declared their intent to comply have further work ahead. He said, "Some of the states which are complying with the federal requirements continue to issue non-compliant driver's licenses and IDs to people who can't or won't provide the necessary paperwork to prove their identities definitively. Others, like Virginia and Arizona, have passed laws that establish requirements for proof of lawful presence for new applicants, but 'grandfathered' those who obtained driver's licenses in prior years. Those provisions allow many to renew indefinitely without presenting proofs of identity. Those states are supposed to mark such non-compliant IDs with clear indicators that they do not meet requirements for federal identification purposes. So far, only six states mark non-compliant IDs as such, including Indiana, Connecticut, Delaware, Utah, West Virginia and Maryland. This is an important matter, because people who obtain non-compliant driver's licenses need to know that they will have to provide other acceptable IDs, such as passports, to get through security screening at the airports."
Zimmer, whose organizations supports the Real ID legislation, concludes: "I hope that the Transportation Security Administration (TSA) begins preparing to enforce the deadline next January by posting notices in the airports as to which driver's licenses will no longer be considered as proof of identity for boarding planes. This would help to avoid queues of disappointed travelers in 2013 and it will also serve as a wakeup call to residents of states that won't or can't meet the deadline so they would have time to get passports prior to domestic airline travel. The REAL ID Act is an important barrier to terrorists, like those who planned and executed the 9/11 attacks. Most state governments are on the way to comply with the federal standards. It's time for the laggard states to get on board with REAL ID, so their residents can board planes and enter federal buildings after the deadline."