Food safety

Middle school robotics team develops solution to food poisoning

Published 23 February 2012

A group of eight middle school students in California has developed an electrolyzed water vending machine that can cheaply and effectively reduce food contamination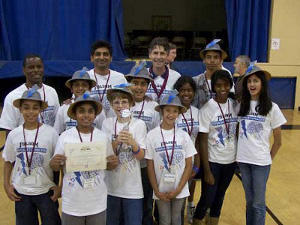 Members of the Folsom BrainStormers, developers of an electrolyzed water dispenser // Source: vendingtimes.com
A group of eight middle school students in California has developed an electrolyzed water vending machine that can cheaply and effectively reduce food contamination.
The Vending Times reports that the electrolyzed vending machine comes as the team's submission to the FIRST (For Inspiration and Recognition of Science and Technology) robotics competition. This year's theme was food, so participants had to identify a safety issue in the global food supply chain and create a potential solution.
The four boys and four girls of the Folsom BrainStormers decided to take on the challenge of contaminated fresh foods, particularly salsa. The team learned that salsa or guacamole is responsible for one-in-twenty-five of the food borne illnesses in the United States as it is uncooked and therefore difficult to remove pathogens.
Inspired by the simplicity of using electrolyzed water as a natural disinfectant, the team went about creating a device that could cheaply dispense it. The BrainStormers learned that adding salt to water and passing an electric current through the solution creates a non-toxic cleaning solution and disinfectant that is natural and breaks down quickly.
The alkaline solution has proven effective as a cleaning agent as its acidity kills the microbes that cause foodborne illnesses. In addition the solution is a good cleanser and degreaser for regular household cleaning purposes. In Japan electrolyzed water is widely used to reduce contamination in sushi as well as other food applications, but has yet to catch on in the United States.
One of the impediments of electrolyzed water is that it cannot be stored for long periods of time, so the team had to find a solution that could produce the disinfectant on demand. Currently EAU Technologies and Aquaox manufacture electrolyzed water systems, but the companies told the BrainStormers that even the smallest system would cost roughly $6,000, making it infeasible for wide distribution.
To overcome their challenge, the team decided to incorporate electrolyzed water technology into existing pure-water vending machines at local grocery stores. With the new devices, customers could select whether they want pure drinking water or electrolyzed water that can be used to sanitize raw foods.
Based on the computer model that the team developed, the estimated cost of the vending machine would be $15,000 total with the alkaline solution costing customers between 50 cents and $1 a gallon.