Border security

CBP considers expanding unmanned checkpoints along southern border

Published 28 February 2012

Customs and Border Protection (CBP) officials are considering introducing more unmanned checkpoints at ports of entry along the U.S.-Mexico border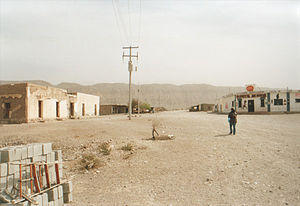 Unmanned border crossing under construction in Texas // Source: wordpress.com
Customs and Border Protection (CBP) officials are considering introducing more unmanned checkpoints at ports of entry along the U.S.-Mexico border.
CBP already has a few automated checkpoints along the northern border, but only recently did it launch its first unstaffed entry point in Big Bend National Park, a remote portion of southwest Texas. If successful, CBP could roll out more robotic checkpoints in desolate stretches of the southern border.
In an interview with NextGov, Seth Stodder, CBP's former policy director and now a consultant to the agency, said, "I could see it becoming a trend if this works out, but the government is going to move slowly."
According to Stodder, the key factors for choosing where to place additional checkpoints will likely include the dependability of surveillance technology, traffic, and type of illegal activity at the location.
At the Big Bend National Park checkpoint, potential border crossers who have smart passports or other citizenship documents embedded with computer chips will approach sophisticated kiosks linked to a CBP center in El Paso, Texas. Officers in the command center will be able to see the individuals through a one way camera and check their IDs.
In addition, the scanners will automatically read an individual's passport based on the microchip and a radio frequency identification transmitter. Once near the kiosk, their records will automatically be pulled up for the CBP agent to verify.
In the future, Stodder said facial recognition technology could be implemented to improve accuracy and expedite the clearance process.
To prevent technical failures, Bill Brooks, a spokesman for CBP said, "There's a lot of redundancy built into the system, just like there is at any port of entry, so we would cross our fingers that it doesn't happen. But it does happen."
"When it does," Brooks explained, "we would have to stop granting access while it has to be repaired or it would have to be done manually."
In the event of a malfunction, CBP agents stationed in Presidio, Texas, the nearest port of entry, which is a few hours away would potentially have to drive over to Big Bend and conduct manual verifications.
The system will cost an estimated $1.6 million for the first year to install and the National Park Service projects that between 15,000 and 20,000 people will use the border crossing in its first year. In comparison, the port of entry at El Paso processes between 40,000 and 85,000 people a day.
"If there's any place you want to try this, it's there," Stodder said in reference to the automated Big Bend National Park entry kiosk. If illegal immigrants, "really wanted to get across, they'd probably try to wade across the river someplace else," he said.