Aviation security

Armed pilot program budget to be slashed in half

The Obama administration's budget proposes cutting more than half the funding for a program that trains airline pilots to wield guns in the event of a terrorist takeover; the program is voluntary and consists of an intensive eight-day training course and a recurring training every six months; thousands of U.S. airline pilots have been trained to carry weapons as a final line of defense against terrorism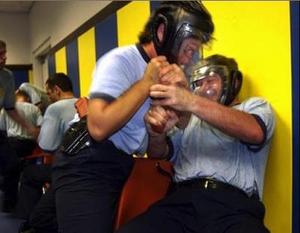 Pilots practice during weapons training course // Source: aero-news.net
The Obama administration's latest budget proposes cutting more than half the funding for a program that trains airline pilots to wield guns in the event of a terrorist takeover.
Following the 9/11 attacks, thousands of U.S. airline pilots have been trained to carry weapons as a final line of defense against terrorism in the federal flight deck officer program. The program is entirely voluntary and consists of an intensive eight-day training course and a recurring training every six months.
The exact number of federal flight deck officers is classified, but the Philadelphia Inquirer reports that in 2009 a Transportation Security Administration (TSA) spokesperson said there were an estimated 12,000 gun-toting pilots and that the program was set to expand.
The president's latest budget would reduce the program's budget from $25 million to $12.5 million. In addition the White House has called for slashing $36.5 million from the Federal Air Marshal Service budget's $929.6 million budget.
Testifying before the House Subcommittee on Homeland Security Appropriations, TSA head John Pistole said the money spent on the federal flight deck officer program was needed for other more critical security programs.
Pistole explained that over the past decade, reinforced cockpit doors, screening all airline passengers before they board, and heightened security awareness "have greatly lowered the risk of unauthorized cockpit access and represent a comprehensive and redundant risk-mitigation strategy that begins before passengers board an aircraft."
The proposed budget cuts were met by criticism from labor unions representing pilots. Captain Sean Cassidy, the firstvice president of the Air Line Pilots Association, said the flight deck officer program is a cost-effective program that enhances security as pilots volunteer their own time and resources to participate.
"Cutting more than half the funding is going to have a pretty dramatic and negative consequence," Cassidy said. "We are also displeased that they are cutting back the Air Marshal Service. These are highly experienced, qualified individuals who in tandem with the flight deck officers enhance the security of our skies."
Echoing Cassidy, Captain James Ray, a spokesman for the U.S. Airline Pilots Association, added, "We hope we never need to use our weapons. But if that cockpit door is ever breached, and there are terrorists on board, that could be the difference in that airplane being taken over and used as a weapon of mass destruction or not."
"A lot of pilots feel a necessity to do this. They don't receive a dime," Ray said. "It costs them money in time, hotels, and meals."
In 2002, before Congress approved of arming pilots, the Air Transport Association expressed their concerns with the idea.
"While we are spending literally billions of dollars to keep dangerous weapons off of aircraft, the idea of intentionally introducing thousands of deadly weapons into the system appears to be dangerously counterproductive," twenty-one airline CEOs said in a letter to Congress.
So far there have been no instances of a pilot having to use his weapon, but in 2008 a pilot's gun accidentally went off and punctured a small hole in the exterior of the plane. No one was injured and the plane landed safely.