Infrastructure protection

Containing a tunnel flood with an inflatable giant plug

Researchers have developed a giant plug to contain tunnel floods; the plug inflates (with water or air) to dimensions of roughly 32-feet-long and by 16-feet-wide, and holds 35,000 gallons, about the same capacity as a medium-sized backyard swimming pool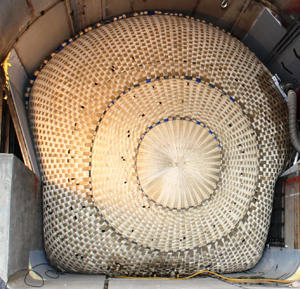 Iinflatable tunnel plug during testing // Source: wvu.edu
Twenty years ago in Chicago, a small leak in an unused freight tunnel expanded beneath the Windy City and started a flood which eventually gushed through the entire tunnel system. A quarter-million people were evacuated from the buildings above, nearly $2 billion in damages accrued, and it took 6 weeks to pump the tunnels dry.
How much more costly — in lives and infrastructure — would a flood in a heavily used, underwater subway tunnel be today?
DHS reports that in January 2012 DHS Science and Technology Directorate (S&T) successfully tested an unprecedented technology for containing flooding or dangerous gases in mass transit tunnels: a giant plug.
S&T's Resilient Tunnel Project (RTP) has developed an enormous inflatable cylinder, tunnel-shaped with rounded capsule-like ends, that can be filled with water or air in minutes to seal off a section of tunnel before flooding gets out of control.
For years, mass transit experts have pondered ways to block off a section of a tunnel to quickly contain the spread of water. Ideally, the tunnel could be plugged, much as a drain is plugged by a rubber stopper. Is it actually possible, however, to isolate part of a tunnel at a moment's notice?
Retrofitting a transit system with retractable, watertight doors might seem an obvious solution, but doing so could be cost-prohibitive and incredibly disruptive.
S&T's new tunnel plug provides an affordable, easily installed, quickly deployable solution to protect vital mass transit systems. Developed in partnership with Pacific Northwest National Laboratory, West Virginia University (WVU) and ILC Dover — longtime maker of NASA space suits — the plug inflates (with water or air) to dimensions of roughly 32-feet-long and by 16-feet-wide, and holds 35,000 gallons, about the same capacity as a medium-sized backyard swimming pool. When not in use, the plug packs down to a small storage space in the tunnel, ready for remote, immediate inflation in an emergency from the tunnel system's command center.
Designing, building, and testing this giant capsule proved quite complicated. "No one's ever done this before," says S&T Project Manager Dr. John Fortune. "It's a completely novel technology," adding that although he's proud to be first, a major challenge of the project has been the lack of a precedent or prior model.
S&T notes that although the plug's cylindrical shape is an obvious choice for sealing off a tunnel, those tunnel walls are far from smooth. Pipes, vents, lights, and subway tracks line transit tunnels, and