Energy

Alternative to Keystone XL pipeline planned

The Obama administration rejected of the Keystone XL pipeline to carry Canadian oil to refineries on the U.S. Gulf coast, and now two companies are collaborating to develop an alternative plan to achieve the same end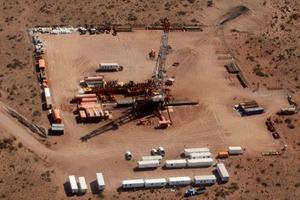 Shale oil drilling rig in operation // Source: theiet.org
Enbridge, Inc., of Calgary, Alberta, and Enterprise Products Partners L.P., of Houston, will partner on a $2 billion pipeline from Cushing, Oklahoma, to the Houston area. Enbridge will spend $1.9 to $2.8 billion to build another pipeline, from Flanagan, Illinois to Cushing, which would link it to an existing route from Canada and offer access to oil producers in the northern United States. Oil produced in the Bakken shale, including areas in North Dakota and Montana, could be shipped through the pipeline.
The plan is a response to mounting supply pressure in the north, where advances in drilling technology have fostered an oil boom that has, in turn, created a glut of landlocked crude with limited transportation options.
President Obama rejected the Keystone XL permit on the basis that Republicans had not given enough time for the decision to be made, according to Bloomberg.com, though he invited TransCanada, the Keystone XL developer, to reapply.
TransCanada promptly accepted.
The Enbridge-Enterprise plan, unlike Keystone, does not require federal approval since it does not cross international borders.
The northern leg of the pipeline will link to an existing border crossing point, and will move approximately 585,000 barrels of oil a day southward to Cushing.
The partners jointly own the Seaway, an existing pipeline moving oil from Houston to Cushing. Their plan calls for them to reverse that flow, and concurrently build a parallel pipeline between Cushing and Houston.
The combination of the two pipelines will deliver an expected 850,000 barrels a day to the refineries on the Gulf coast.