Food safety

E-beam technology to keep food supply safe

More than two million people a year, most of them children, die from food-borne or water-borne illness; more than one-third, or 1.3 billion tons, of the food produced for human consumption every year is wasted or lost because of spoilage; the UN nuclear weapons watch dog, the IAEA, says that irradiating food is a more effective solution for preventing death, illness, and food spoilage than techniques currently in use: heating, refrigerating, freezing, or chemical treatment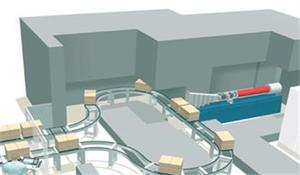 One schematic of e-beam sterilization in an industrial setting // Source: tactic-tech.com
The Vienna, Austria-based UN nuclear weapons watchdog, the International Atomic Energy Agency (IAEA), has been in the news this past two years as worries about Iran's nuclear weapons activities, and the threat that these activities, if not stopped, might lead to a military confrontation in the region, have intensified. The IAEA, however, says its expertise can serve humanity beyond the prevention of the proliferation of nuclear weapons.
More than two million people a year, most of them children, die from food-borne or water-borne illness, a fact that an IAEA official said is unacceptable since technology is available to curb those losses.
"The role of food irradiation in improving food safety and quality, and in reducing the risk of food-borne diseases, is clear," said David H. Byron, food and environmental protection section head.
"Food irradiation is one of the few technologies which addresses both food quality and safety by virtue of its ability to control spoilage and food-borne pathogenic microorganisms as well as harmful insect pests without significantly altering the food products."
A Texas A&M release reports that Byron spoke to attendees at a workshop of e-beam and X-ray irradiation technologies held at Texas A&M in College Station recently. The event was hosted by the National Center for Electron Beam Research at Texas A&M University.
He said food products can be heated, refrigerated, frozen, or chemically treated to protect against food-borne pathogens, but all of those treatments either significantly alter the food temperature or leave potentially harmful residues.
Byron also noted that the technology can be used to reduce food spoilage and in preventing loss and waste of food from insects. He cited a UN Food and Agriculture Organization's estimate that one-third, or 1.3 billion tons, of the food produced for human consumption every year is wasted or lost.
He also made a connection between use of e-beam and X-ray irradiation in medical science. "The National Center for Electron Beam Research has significantly contributed to our ongoing coordinated research project on the development of irradiated food for immune-compromised patients and other target groups with special dietary needs," Byron said. "This research is especially critical because food is a potential source of infection and even organisms normally considered non-pathogenic for most people may cause problems for these vulnerable populations."
Officials with Texas A&M AgriLife agreed. "Food safety is a major component of solving world hunger," Dr. Craig Nessler, Texas AgriLife research director, told the international group attending the event. "The use of this science for food safety and in the medical community makes the applications of e-beam and X-ray irradiation technology important not only to the U.S., but to the world."
The national center's Web sites notes that the center partners "with academia, government and private industry worldwide to enable application of e-beam and X-ray technologies."