Disasters

San Francisco earthquake planners developing pet-disaster response

San Francisco is preparing for the Big One in more ways than one: the latest addition to the city's disaster preparedness plans is a legion of pet disaster responders, trained by city officials to rescue pet dogs, cats, rodents, birds, and reptiles in the event of a disaster, and transport them to one of 125 temporary shelters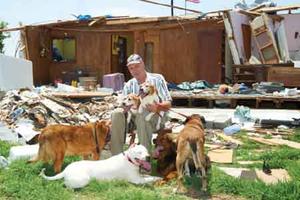 Disaster planners are including pets in their disaster plans. // Source: emergencymgmt.com
San Franciscans have for years been planning for the Big One, and for smaller quakes as well, with enhanced building codes which require many new hospitals, schools, and municipal buildings to include base isolators in their construction. Base isolators act as shock absorbers that minimize the effect of ground shifting on the building. Now, the New York Times reports that the city's disaster plans have expanded to include household pets.
The city hopes to have a legion of trained pet-disaster responders in place, whose sole mission will be to rescue pet dogs, cats, rodents, birds, and reptiles, and transport them to one of 125 temporary shelters. Injured pets will be treated at a $300,000 mobile animal disaster medical command unit.
The city's Animal Care and Control department has adopted a no-pets-left-behind policy, so that when people are rescued from collapsed or burning buildings, their pets will most likely be rescued along with them.
San Francisco's pet-oriented approach is part of a growing national trend that began with post-Katrina New Orleans. The videos of pets abandoned on rooftops became the focal points of Internet-based fundraising appeals by a number of animal welfare organizations.
The late representative Tom Lantos (D-California), who died in 2008, sponsored an initiative, the Pets Evacuation and Transportation Standards Act of 2006. The act made federal funds available for local animal disaster preparedness planning.
Over the past three years, the city has received $350,000 for animal emergency planning. Veterinarian Dr. Bing Dilts, who serves as the city's animal disaster preparedness specialist, drafted a citywide emergency response plan and set up a classroom curriculum to train volunteer animal disaster first responders. Thus far, Dilts's Disaster Animal Response Team has a hundred trained members, and she hopes that number will continue to grow.