Infrastructure protection

Solar storms and infrastructure vulnerabilities

Space weather, and in particular coronal mass ejections, can cause huge disruption to many highly technological systems on Earth; experts say that vulnerable industries, such as power grids and airlines, should gather more information on space weather in order to make more informed decisions about how to deal with future solar storms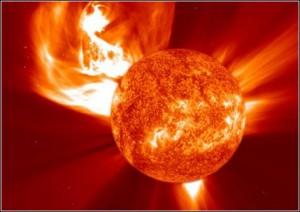 Massive solar flare erupting during storm // Source: thambapanne.net
Space weather, and in particular coronal mass ejections (violent eruptions from the Sun's atmosphere), can cause huge disruption to many highly technological systems on Earth. In 1989 five million people were left without electricity, causing billions of dollars in damages and losses to business, as Earth experienced its largest geomagnetic storm in decades. Professor Mike Hapgood, head of the space environment group at STFC's RAL Space and chair of an expert group advising the U.K. government on space weather risks, addresses the issue of space weather and infrastructure protection in a comment piece for this week's Nature.
The U.K. Science & Technology Facilities Council quotes him to say that although the timing of coronal mass ejections can be predicted with increasing accuracy through missions such as NASA's Solar Terrestrial Relations Observatory (STEREO) and Solar Dynamics Observatory (SDO), more work is needed to understand how big a storm we might encounter in future.
"We already know that a space weather storm the size of those that struck in 1859 or 1921 would prove disastrous, potentially leaving some areas without power for months and causing trillions of dollars of damage. But we should be preparing for a bigger storm, of the type likely to hit once in a thousand years. Sadly, we don't know how big that storm might be," he writes.
Hapgood suggests a number of methods which would allow systems at risk, such as power grids and airlines, to make informed decisions about how to deal with future solar storms. One of these is doing more statistical studies such as those already being carried out through Solar Stormwatch, a project in which members of the public use images from STEREO to spot explosions on the Sun and track them across space to Earth.
— Read more in Mike Hapgood, "Astrophysics: Prepare for the coming space weather storm," Nature 484 (19 April 2012): 311–13 (doi: 10.1038/484311a)