Border security

New approach to U.S. border security

CBP has unveiled a new approach to securing the U.S.-Mexico border; the new strategy puts less emphasis on technology, and more on risk analysis; the Border Patrol believes it now knows enough about those who try to cross the border to begin imposing more serious consequences on almost everyone the agency catches; in January the Border Patrol expanded its Consequence Delivery System to the entire border, dividing border crossers into seven categories, ranging from first-time offenders to people with criminal records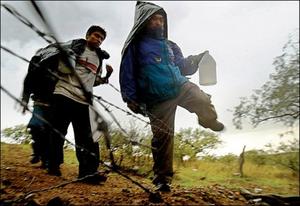 Illegal border crossers at a remote part of the border // Source: nowyekran.pl
The U.S. Customs and Border Protection (CBP) agency, in a 32-page report, outlines a new strategy for securing the U.S.-Mexico border. The new security approach comes against a drop in illegal entry into the United States from Mexico to a 40-year low.
CBS News reports that the CBP document, which took more than years to prepare, moves away from the earlier approach to border security. That approach concentrated on blanketing the major corridors of entry with border patrol agents and surveillance equipment in order to stem the flow of illegal immigrants. As a result, those who were intent on entering the United States illegally were driven to ever more remote and less populated areas of the border. The assumption was that it would be easier to spot, identify, and arrest illegal immigrants in those sparsely populated areas.
"The jury, for me at least, is out on whether that's a solid strategy," CBP director Mike Fisher told the AP.
Fisher, in a recent interview, elaborated: "This whole risk-based approach is trying to figure out who are these people? What risk do they pose from a national security standpoint? The more we know, the better informed we are about identifying the threat and potential risk."
CBP says it is changing its approach to border security in order to take account of two trends. CPB has received billions of dollars in funding, using the money to bolster the number of Border Patrol agents to 21,000, and to build fences, deploy cameras, plant sensors, and employ other technologies better to monitor the border area.
In addition, the agency now employs surveillance units, thermal imaging systems, and different types of inspection equipment. There are also 270 aircraft, nine UAVs, and 301 maritime patrol vessels assisting with border surveillance.
At the same time, the number of illegal immigrants crossing from Mexico has continued to decline. In 2011, the Border Patrol made 327,577 arrests on the Mexican border, down 80 percent from more than 1.6 million in 2000. The 2011 figure was the slowest since 1971.
CBS News notes that the Border Patrol believes it now has sufficient information on those who try to cross the border – enough to begin imposing more serious consequences on almost everyone the service catches from Texas' Rio Grande Valley to San Diego. In January, the Border Patrol expanded its Consequence Delivery System to the entire border, dividing border crossers into seven categories, ranging from first-time offenders to people with criminal records.
The AP notes that the new strategy does not mention expanding fences and other physical barriers. Fisher said he would not rule out more fences but, "It's not going to be part of our mantra."
The new strategy mentions technology only briefly in the wake of the $1 billion SBINet technology program. That hi-tech border security project was initiated by the Bush administration but, after it was judged to be a failure, was ended by the Obama administration. Fisher said the agency is moving more toward mobile surveillance like unmanned aerial vehicles and helicopters. "We're still trying to understand what the capabilities are with all the technologies and the platforms," Fisher said. "I'm just trying to figure out what is the best suite on all this stuff."