Immigration

The changes to the U.S. deportation policy

Last Friday, 15 June 2012, DHS announced what analysts regard as the most significant immigration action in more than two decades; the executive action aims to stop – or defer — the deportation of undocumented youth; individuals cannot yet file for consideration for deferred action under the new policy until the protocols and procedures are announced, which DHS must do within sixty days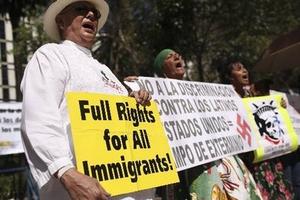 Administration announces new deportation policy // Source: socalopinion.com
Last Friday, 15 June 2012, DHS announced what analysts regard as the most significant immigration action in more than two decades. The executive action aims to stop – or defer — the deportation of undocumented youth.
Individuals must meet the following criteria will be considered under the deferred action program:
Entered the United States before the age of 16 and be under 31 years old on 15 June 2012
Have continuously resided in the United States for five years as of 15 June 2012
Were physically present in the United States on 15 June 2012
Are currently in school, have graduated from high school, or earned a

GED

, or be an honorably discharged veteran of the Armed Forces of the United States
Have not been convicted of a serious crime or multiple minor crimes that pose a threat to national security or public safety
Jeff Joseph of the Colorado Springs, Colorado-based Joseph Law Firm, which specializes in immigration law, notes, though, that "Deferred action is not amnesty and it is not immunity. It is not a permanent status and does not provide a pathway to permanent residence or citizenship. It does not even provide temporary legal status to those within the country. It does not change existing law. It utilizes the administrative functions and powers that the Department of Homeland Security already possesses to remove the threat of deportation and to provide temporary two year work authorization to qualified and deserving youth."
He also notes that while the general requirements have been announced, the procedures and details of implementing them are still being worked out, and are yet to be announced by DHS. The department has sixty days to put in place and announce the procedures which qualified individuals should follow when filing for deferred action.
DHS clarified that individuals cannot yet file for consideration for deferred action under the new policy until the protocols and procedures are announced.