Immigration

Obama's sweeping immigration initiative goes into effect next week

On 15 August 2012 a sweeping new immigration initiative, the most significant easing of immigration policy since President Ronald Reagan granted amnesty to an estimated three million people in 1986, goes into effect; it would defer deportation action against, and grant a work permit to, illegal immigrants who meet certain criteria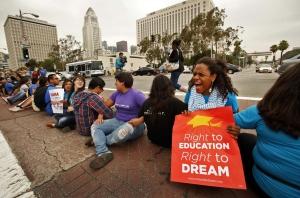 Students among those to benefit from immigration enforcement change // Source: arizona.edu
On 15 June 2012 the Obama administration issued an executive order which would defer deportation action against, and grant a work permit to, illegal immigrants who meet certain criteria. The order would allow almost one million undocumented young people to remain in the United States.
On Friday, the U.S. Citizenship and Immigration Services (CIS) issued a 16-page guideline detailing the policy and how it is to be implemented. The new policy is going into effect on 15 August.
The Wall Street Journal — which describes the Obama initiative as "the most significant easing of immigration policy since President Ronald Reagan granted amnesty to an estimated three million people in 1986" — highlights its main features:
The new policy offers a 2-year renewable exemption from deportation, and a work permit, to those brought to the United States illegally as children
The policy applies to people between the ages of 15 and 30
They must meet certain criteria, including proof they have graduated high school or been discharged honorably from the U.S. military
Applicants must provide evidence they have lived in the United States for five years and pay a $465 processing fee
Applicant information will not be shared with immigration enforcement except in cases that involve crimes
Applicants will be disqualified (that is, they will not be eligible to enjoy the new initiative) for offenses such as drunk driving, but not for driving without a license
The Wall Street Journal reports that about 900,000 people, mainly from Latin America and Asia, could be eligible under the new policy. The states with the most potential beneficiaries are California, with more than 400,000, and Texas, with more than 225,000. New York City is home to about 55,000.
DHS says it expects to receive 3,000 applications a day and will need to hire more than 1,400 full-time workers, as well as contract labor, according to sources familiar with the situation.
Pro immigration organizations are gearing up for a grass-root effort to reach as many eligible illegal immigrants as possible, These organizations will be aided by large charitable donations from foundations affiliated with Andrew Grove, Intel Corp co-founder, the family of blue-jeans giant Levi Strauss, and the family of Jacob Merrill Kaplan, a financier who owns a large stake in Welch Grape Juice Company. WSJ reports that these and other foundations have said they would initially commit more than $1.5 million to help groups offering legal advice and setting up online tools to assist in the application process.