Blimps

World's largest blimp passes flight test

The world's largest, lighter-than-air, optionally piloted aircraft — the U.S. Army's Long Endurance Multi-Intelligence Vehicle (LEMV) – completed its first test flight in Lakehurst, New Jersey, the birthplace of the U.S. storied military airship past; the LEMV will provide improved ISR capabilities to the U.S. Army in the form of an "unblinking stare" over ground troops, ranging anywhere from one day to multiple weeks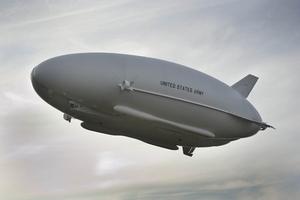 U.S. Army's LEMV, the world's largest blimp, during test flight // Source: datviet.com
Hybrid Air Vehicles Limited and Northrop Grumman announced the successful completion of the first flight of the U.S. Army's Long Endurance Multi-Intelligence Vehicle (LEMV) in Lakehurst, New Jersey, the birthplace of the U.S. storied military airship past (the town's motto: "Airship Capital of the World").
The LEMV, a first-of-its-kind airship, took to the sky at 6:49 p.m. Eastern time and flew for more than ninety minutes over Lakehurst Naval Air Station. In the shadows of the century old Hangar One, the companies say this milestone represents the commencement of the flight test program, and demonstrates that Northrop Grumman and its industry partners have successfully developed the world's largest, most-persistent, lighter-than-air optionally piloted aircraft.
"The entire U.S. Army/Northrop Grumman industry team has done an outstanding job working through a technically challenging program, demonstrating strong teamwork to achieve this first flight milestone," said Alan Metzger, vice president and program manager of Long Endurance Multi-Intelligence Vehicle and Airships for Northrop Grumman Aerospace Systems. "This platform will establish a new standard for a long-endurance, persistent intelligence, surveillance and reconnaissance (ISR) capability over the battlefield."
Northrop Grumman also notes that the manner in which the U.S. Army/Northrop Grumman team adopted a nontraditional approach in the execution of this technically challenging program, an approach which is suitable for a time of budgetary and procurement reforms.
LEMV was designed, built, and flown in a short twenty-four months, an accomplishment for a vehicle of this scale and complexity.
LEMV will provide improved ISR capabilities to the U.S. Army in the form of an "unblinking stare" over ground troops, ranging anywhere from one day to multiple weeks. The endurance ability of the LEMV system comes from a design that is built around Hybrid Air Vehicles Limited's HAV304 aircraft design and Northrop Grumman's open system architecture design, which provides a modular and flexible payload capability along with room for mission expansion and growth.