Infrastructure

Tampa Bay's infrastructure receives C grade – some say it is a gentleman's C

All eyes are Tamp Bay as it anxiously awaits the full brunt of tropical storm Isaac; long-time residents of the city and the neighboring counties will not be happy to learn that the city has been given a C grade for its infrastructure; engineer Kathy Caldwell, past president of the American Society of Civil Engineers, who teaches at the University of Florida, said: "None of us would expect our children to come home with the reports cards that we gave the region's infrastructure"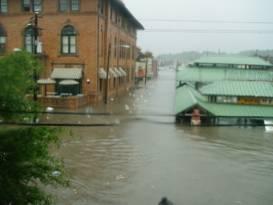 The result of overwhemled storm drains // Source: vcu.edu
With the usual concerns that accompany the Hurricane season, most people assume that one thing they do not have to worry about are the buildings and infrastructure around them which, most believe, can handle the storms. Citizens in Tampa Bay, however, will not be happy to learn that the city has been given a C grade for its infrastructure.
"None of us would expect our children to come home with the reports cards that we gave the region's infrastructure," Kathy Caldwell, past president of the American Society of Civil Engineers (ASCE), who teaches at the University of Florida, told the Tampa Bay Times.
The ASCE's Florida West Coast branch handed out the grade last Wednesday. Factors included what is currently available, what is on tap for the future, and how the plans for the future will be funded in Hillsborough, Pasco, Pinellas, and Manatee counties
Here is what the Society had to say.
Schools got a D- for cutting maintenance and construction budgets and failing to replace older schools. In Hillsborough County alone, the society said, there are 241 schools that are on average twenty-seven27 years old and no funding to maintain or renovate them.
Hillsborough schools spokesman Stephen Hegarty said efforts to maintain and renovate its buildings have been hampered by state cutbacks.
Stormwater systems received a D grade because they can not handle water runoff from storms, which causes flooding and affects water quality. Local municipalities are planning to spend $1 billion in the next twenty-five years on these systems — half of what the ASCE estimates the bay area will actually need to spend.
The road and transit system got a C- for being overloaded with traffic at peak hours, for officials failing properly to fund mass transit, and for failing to develop alternatives like light rail.
Aviation got a C-, but for reasons that are beyond the control of Tampa International and St. Petersburg-Clearwater international airports. They do not have much room to expand, are vulnerable to hurricanes, and the Federal Aviation Administration (FAA) has yet to implement its upgraded NextGen air traffic system.
Caldwell was not happy about the grade.
"Infrastructure is vital," Caldwell told the Times. "It's the roads we drive every day to work and it's the water that comes out of taps. … The fact of the matter is that many of us don't recognize the contribution of infrastructure until it fails."
The city did receive passing grades for coastal areas (A-), ports (B+), bridges (B-), and water (C+). The ASCE also praised Tampa for the high-rise connector bridge which will connect Interstate 4 and the Selmon Expressway that will help the Port of Tampa by getting cargo truck on the road faster.
While the positive marks were well received, there were people that were not satisfied.
"If my child came home with this report card, I would be a little concerned," Hillsborough County Commissioner Sandra Murman told the Times. "But we know our bridges are safe. I think we have the best airport around. So I'm not sure about that one."
Tampa did better than the U.S. as a whole, which got a D for infrastructure in 2009. The report also noted the cost of poor infrastructure, estimating that Americans lose four workdays a year sitting in traffic, and that leaky pipes waste six million gallons of water a year.