Iran

Netanyahu cancels security cabinet meeting on Iran after leaks

Published 6 September 2012

Israel's prime minister, Benjamin Netanyahu, scheduled a 2-day marathon meeting of Israel's security cabinet for Tuesday and Wednesday, with an 8-hour session planned for each day; the 2-day meeting was called for a thorough and comprehensive – and probably decisive — discussion of Iran's nuclear weapons program and what should Israel do about it; the speakers on Tuesday included the directors of Israel's military and civilian intelligence agencies; early Wednesday, Netanyahu abruptly canceled the meeting's second session because of leaks from Tuesday top-secret meeting session appeared in the Israeli press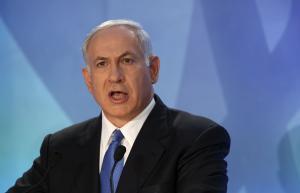 Israeli prime minister Benjamin Netanyahu // Source: lamalipolitica.com
Israel's cabinet has thirty ministers. When it comes to the most sensitive war-and-peace, security, and intelligence issues, information is typically shared, and decisions are made, by a much smaller group, called the security cabinet. The law requires that this smaller cabinet include six cabinet ministers whose departmental responsibilities involve national security-related issues, but at times, for political reasons, additional members are included; the current security cabinet consists of fourteen ministers.
Israel's prime minister, Benjamin Netanyahu, scheduled a 2-day marathon session of the security cabinet for Tuesday and Wednesday, with an 8-hour meeting planned for each day. The 2-day meeting was called for a thorough and comprehensive – and probably decisive — discussion of Iran's nuclear weapons program and what should Israel do about it.
The speakers on Tuesday included director of Military Intelligence Maj. Gen. Aviv Kochavi, Mossad chief Tamir Pardo, and Shin Bet security service chief Yoram Cohen.
While we know that the meetings were called to discuss the Iran situation, it is not clear whether or not the meetings were supposed to end with a vote authorizing the Israel Defense Force (IDF) to begin the countdown to an attack an Iran. Based on the historical record, the Israeli cabinet, and security cabinet, typically authorize the IDF to launch a war, leaving operational details such as the day, time, and mode of initial engagement to be decided by the prime minister, the defense minister, and the army chief of staff.
Haaretz reports that early Wednesday morning, however, Netanyahu abruptly cancelled the second day of the session, which was planned for Wednesday, after an Israeli news outlet late Tuesday published information from the highly secret Tuesday session.
"A short while after the meeting yesterday [Tuesday] something serious happened," Netanyahu said. "A leak from the cabinet discussions… someone severely damaged the trust that Israel's citizens have in this forum." Netanyahu added that the person responsible for the leak "broke the basic rules of holding discussions in the security cabinet. He also hurt the good name of those who attended the meeting and did not leak information."
Netanyahu said that Israel's security "depends on the ability to hold classified and wide-ranging discussions in the political-security cabinet. That is where all of the facts, opinions and ramifications are presented." Netanyahu added that "I have nothing to say against the media, it's doing its job. I do have something to say about whoever broke the very basic trust required for [discussing] Israel's security matters, and who has damaged the capability of holding classified discussions. I have a responsibility to the citizens of Israel for the country's security and therefore I am cutting this meeting short."
Haaretzalso reports that Energy and Water Resources Minister Uzi Landau called on Netanyahu to launch an investigation into the matter and identify the person responsible for the leak. "All participants of the meeting, including ministers and security and intelligence officials must undergo a polygraph test," Landau said. "Until the person responsible for the leak is found, this forum cannot be convened."