Guns

Privately funded gun buy-back programs proliferate

In the aftermath of the Connecticut mass shooting, private donors have donated hundreds of thousands of dollars to cities around the United States to fund gun buy-back programs; thousands of guns – and two rocket launchers – have been collected, but the impact on a gun-saturated society is likely to be small: this year alone the FBI has recorded 16.8 million instant background checks of gun buyers, 400,000 more than last year, which was a record year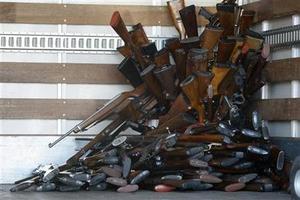 One result of the Sandy Hook tragedy is privately funded gun buybacks // Source: alriyadh.com
In the aftermath of the Sandy Hook mass shooting, private donors have started a gun buyback program in Bridgeport, Connecticut.
According to mayoral spokeswoman Elaine K. Ficarra, the program has more than $130,000 to work with and almost all of it comes from private donors. CNN reports that in the first two days of the program, more than 200 guns have been brought in, totaling more than $22,000. Many of the people who brought their guns back said they were motivated by the mass shooting that took place three weeks ago. City officials say the program will continue every weekend until the money runs out.
"We've seen an outpouring from the community since Sandy Hook in all manners, from teddy bears to cash," police Chief Joseph Gaudett Jr toldCNN.
All kinds of weapons, from rifles to shotguns and even assault weapons, have been brought in, and according to Bridgeport Mayor Bill Finch, the program is already being considered a success.
"These guns could have created victims," Finch said. "We know if we can reduce the number of weapons that are available through breaking into people's houses and grabbing guns, we are a safer society."
The program will offer $75 for rifles, up to $200 for handguns, and as much as $400 for assault rifles.
Last year the city had to cancel its buyback program due to lack of funds. The program was subsidized by the Bridgeport Housing Authority. This year's private funding program has been a result of other donation programs that have caught on across the nation.
A buyback event in Oakland, California in early December collected almost 400 guns after a $100,000 donation from Keith Stephenson, the owner of a local medical marijuana dispensary. On the same day, another private donor buyback program was held in San Francisco, where it was so successful that police were forced to hand out IOUs.
There are still cities, such as New York, which successfully use government money for buyback programs. The city of Los Angeles moved up its annual Mother's Day buyback program, which collected more than 2,000 weapons overall, including two rocket launchers.
The full impact of these programs might be small, however, as gun sales have skyrocketed recently, especially after the Sandy Hook incident. This year alone the FBI has recorded 16.8 million instant background checks, 400,000 more than last year, which was a record year itself.