Sandy relief

Sen. David Vitter (R-La.) calls Sen. Harry Reid an "idiot" over Katrina comment

Last week, during a floor debate in the Senate on the $9.7 billion portion of the Sandy relief measure, Majority Leader Harry Reid (D-Nevada), who supported the measure, said: "The people of New Orleans and that area, they were hurt, but nothing in comparison to what happened to the people in New York and New Jersey"; in response, Sen. David Vitter (R-Louisiana) said: "Sadly, Harry Reid has again revealed himself to be an idiot"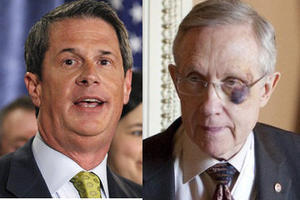 Sen. David Vitter (left) and Sen. Harry Reid // Source: HSNW Composite
Superstorm Sandy not only wreaked destruction and havoc, it also unleashed a barrage of invectives remarkable even in this age of no-holds-barred politics. Thus, after the House GOP leadership decided last Tuesday to postpone a vote on a White House request for $60.4 billion in post-Sandy relief package – a request approved by the Senate – to leading Republicans did not hold back. Pulling no punches, New Jersey Republican governor Chris Christie said: "Last night, the House majority failed most basic test of leadership and they did so with callous disregard to the people of my state. … It was disappointing and disgusting to watch."
He also named names: "There's only one group to blame … the House majority, and their Speaker, John Boehner." He added that the relief bill "just could not overcome the toxic internal politics of the House majority."
Representative Peter King (R-New York), blasted his fellow Republicans in the House leadership on CNN last Wednesday: "I would say the Republican Party has said it is the party of family values," he said. "Last night it turned its back on the most essential value of all, and that is to provide food, shelter, clothing and relief for people who have been hit by a natural disaster. And I would say that the Republican Party has turned its back on those people."
Speaker John Boehner relented, and last Friday the House approved the first part of the relief package – a $9.7 billion in flood relief. The House will vote on the remaining $50.7 billion before 15 January.
The storm-related war of words, however, continues.
Fox New reports that Louisiana Republican Senator David Vitter slammed Majority Leader Harry Reid (D-Nevada) for suggesting the damage from Hurricane Katrina was "nothing" compared with the damage from Superstorm Sandy.
Last week, when Congress debated the $9 billion portion of the relief measure, Reid, who supported the measure, said: "The people of New Orleans and that area, they were hurt, but nothing in comparison to what happened to the people in New York and New Jersey."
Vitter agreed that both Katrina and Sandy were "horribly destructive storms that caused real human misery," but insisted that Katrina "by any measure" was worse than Sandy – indeed, that it was the worst natural disaster in U.S. history.
Katrina caused 1,833 deaths and more than $108 billion in damage. Sandy caused at least 125 deaths and $62 billion in damage along the East Coast.
"Sadly, Harry Reid has again revealed himself to be an idiot, this time gravely insulting Gulf Coast residents," Vitter, the ranking Republican of the Senate's Environment and Public Works Committee, said yesterday (Monday).
Late Monday, Reid apologized for his comments.
"I simply misspoke," he said in a written statement. "I am proud to have been an advocate for disaster victims in the face of Republican foot-dragging, from Hurricane Katrina to Hurricane Sandy, from fires in the west to tornadoes in the Midwest. I have worked hard … to ensure that the people of the Gulf Coast have the resources they need to fully recover. And I will continue to advocate on their behalf until the region is fully recovered."