Terrorism

Rep. McCaull urges Obama to reject calls from releasing the "blind sheik"

The new chairman of the House Homeland Security Committee, Representative Michael McCaul (R-Texas), on Tuesday urged President Obama to reject calls for the release of "the blind sheik" from federal prison; Omar Abdel-Rahman, a blind Egyptian cleric, was a preacher at a New Jersey mosque that served as a gathering place for the terrorists behind the 1993 attempt to blow up the Twin Towers; an FBI investigation found that he took an active part in planning the attack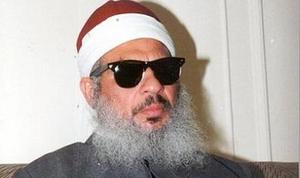 Omar Abdel Rahman, the "blind sheik" // Source: el-wasat.com
The new chairman of the House Homeland Security Committee, Representative Michael McCaul (R-Texas), on Tuesday urged President Obama to reject calls for the release of "the blind sheik" from federal prison.
Omar Abdel-Rahman, a blind Egyptian cleric, was a preacher at a New Jersey mosque that served as a gathering place for the terrorists behind the 1993 attempt to blow up the Twin Towers. An FBI investigation found that he took an active part in planning the attack.
"Releasing a terrorist who plotted against the United States and has American blood on his hands would be seen as a sign of weakness throughout the Muslim extremist world and will only serve to embolden our enemies who continue to plot against us," McCaul said.
The Hill reports that McCaul's made his comments after Egyptian president Mohamed Morsi, in an interview with CNN's Wolf Blitzer, called for the United States to reconsider Rahman's imprisonment on humanitarian grounds, and if not release him then at least ease his prison conditions by allowing him family visits.
"I want him to be free, but I respect the law and the rule of law in Egypt and the United States," Morsi told Blitzer."
Morsi continued: "Egypt's relationship with America deserves that these issues be reviewed, if that is OK according to the law. If it isn't possible — and I hope that it is possible — if it wasn't possible, then these humane aspects need to be taken into account for him to be in a humane prison, to be able to have visitors."
Morsi, who said he intends to visit the United States before the end of the first quarter, said he was going to bring up the issue of the blind sheik in his meeting with President Obama.
The Obama administration has insisted it had no plans to release Rahman from federal prison.
Last fall, a group of eight top-ranking House Republicans wrote Secretary of State Hillary Clinton and Attorney General Eric Holder, urging the administration not to consider Rahman's release.
The Hill notes that Rahman is still popular in Egypt, and that Egyptian politicians routinely call for his release.