Aviation

TSA hits new record in gun collection at airports in 2012

The Transportation Security Administration (TSA) set a new record by confiscating 1,500 weapons in 2012, with 1,295 of the weapons being loaded; most of the confiscated weapons at airports are guns, but TSA has also caught passengers trying to board planes with grenades, stun guns, axes, and throwing stars; one passenger tried to board a plane carrying a bazooka, and another passenger was trying to bring a rocket launcher on board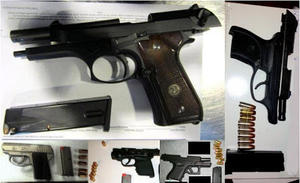 A few of the weapons confiscatged by TSA agents // Source: tsa.gov
The Transportation Security Administration (TSA) set a new record by confiscating 1,500 guns in 2012, with 1,295 of the weapons loaded, according to David Castelveter, TSA director of external communications. Most of the guns were collected at airports in the south.
International Business Times reports that Atlanta's Hartsfield-Jackson International airport, which is also the nation's busiest airport by passenger numbers, accounted for the largest number of confiscations, along with five airports in Texas and two in Florida. While the TSA is responsible for keeping guns off planes, local law enforcement takes over once the guns are found.
"We just keep track of the confiscations because the police don't always keep us apprised of what happens," Castelveter told travel news site Skift, which has monitored the trend throughout the year. "We don't pay attention to the arrest unless it turns into an indictment and we have an agent give testimony in a trial."
According to Castelveter, the TSA does not even have detention authority.
"If somebody comes through with a weapon, the immediate procedure is to call the local authority," Castelveter noted. "There are some states where they just tell you to take it back to the car, in others [like New York] you'll end up at Rikers."
Bob Burns, who keeps track of the weapons for the TSA, says most of the passengers who get caught with guns just forgot they had them.
"In many cases, people simply forgot they had these items," Burns said in a weekly blog post. "Just because we find a prohibited item on an individual, does not mean they had bad intentions; that's for the law enforcement officer to decide."
According to Burns, the TSA catches about four people per day on average across the country. Weapons confiscated include grenades, axes, throwing stars, and a bazooka.
Travelers can travel between certain states with guns, but they must notify the airline in advance and the gun must be unloaded and stored in a hard-locked case in checked baggage.
In the week after the Sandy Hook massacre, TSA officers confiscated thirty-four handguns and just two were unloaded. The week before the mass shooting, forty-one guns were confiscated along with a stun gun, four grenades, and a rocket launcher.