Immigration

Sen. Cornyn, critics exchange charges over immigration reform measure

Texas critics charge that Senator John Cornyn (R-Texas) is likely to oppose the Gang of Eight bipartisan immigration overhaul proposal, even though it meets his demands on border security, because he is worried about a Tea Party primary challenge. Cornyn disagrees.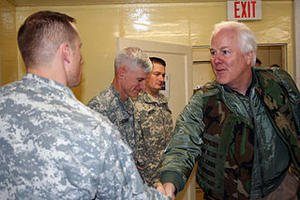 Sen. Cornyn meets troops at an FOB near Jalalabad // Source: commons.wikimedia.org
Senator John Cornyn (R-Texas) was quick to respond to an article criticizing his position on immigration reform.
Cesar Vargas, the director of the DREAM Action Coalition, an immigration advocacy group wrote, an op-ed piece in the Houston Chronicle, arguing that Cornyn has a history of trying to derail efforts at immigration overhaul.
Since 2005, Sen. Cornyn has had a record of defeating reform efforts while portraying himself as a fighter to fix the country's outdated immigration system. At the 2011 Hispanic Leadership Network conference, Cornyn said, "They (Democrats) have controlled Congress for four years, have occupied the White House for two years, and yet they've broken every promise to lead on immigration reform." And last month, while accepting the "Small Business Advocate of the Year" award from the U.S. Chamber of Commerce, Cornyn talked about the need to fix our broken immigration system. And yet, Cornyn in 2010 voted against the DREAM Act - a bill that would provide a path to legal status for certain undocumented students - and recently introduced a "border security only" bill despite the country's overwhelming support for a path to citizenship for undocumented immigrants.
Cornyn, using a Twitter message to his followers, said that the article was "complete bs."
Vargas, who was illegally brought to the United States by his parents when he was five-years old, said that the latest immigration proposal, by the Gang of Eight bi-partisan group of senators, "addresses many, if not all, of Cornyn's demands for border security."
Vargas argued, however, that Cornyn is likely to oppose the bill because of his worry about a Tea Party-sponsored primary challenge.
"Unlike previous attempts, Cornyn's effort to doom immigration reform will not have the same potency or success rate," Vargas wrote.
"Cornyn can still take advantage of this last chance to prove to Texans a legacy of firmness in leadership to take on immigration reform that includes not only border security but a practical system that unites all families," Vargas added.
Cornyn said at a hearing last week that it is critical for Congress to begin examining immigration reform and that the Gang of Eight proposal makes a "number of positive improvements to our immigration system," but he also said the border security provisions in the legislation "fall short" and "without major changes, the bill could do more harm than good."
"The bill is a little over a week old, and Sen. Cornyn has repeatedly praised his colleagues' efforts," Drew Brandewie, a spokesman for Cornyn, said in an e-mail. "Last week, Senator Cornyn laid out areas where he agreed and disagreed with the Gang of 8. He looks forward to the mark up and the continued debate on this important, complex issue."