Israel-Hamas war, Day 14

After eight years under siege, Hamas is fighting to stave off a slow death

Hamas and Egypt are currently testing each other's nerve. Hamas wants to engage the Egyptian government and press the point that they have nothing to do with the Islamist insurgency there, in an effort to get the border crossings open and re-engage with the new al-Sissi administration. But regardless of whether this round of conflict is resolved sooner rather than later, or whether Egypt softens its stance on Hamas, the fundamental challenge facing both Palestinians and Israelis remains the same: to reach a political settlement for a viable Palestinian state where both Palestinians and Israelis can live in peace and security.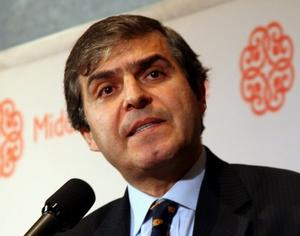 Prof. Fawaz Gerges, London School of Economics // Source: commons.wikimedia.org
After days of oscillation over an Egyptian-brokered ceasefire, the conflict between Israel and Hamas has escalated into a full-on Israeli ground offensive in Gaza. According to authorities in Gaza, 258 Palestinians [as of Friday] have been killed since the start of the latest hostilities — which now show no sign of slowing.
By the time Israel's forces rolled in, reports of Mahmoud Abbas's meeting with General al-Sisi in Cairo had already exposed just how low Hamas's relations with its most important former ally have sunk, with Egypt reportedly seeking a deal that would place Gaza back under Abbas's control.
Predictably, Hamas's rejection of Egypt's ceasefire plan has been subject to widespread misunderstanding and distortion – and superficial western commentary has failed to take into account the critically important political context that has shaped the Hamas response.
Historically, Egypt's intelligence services were the main channel through which Hamas and Israel mediated their disputes. These services had intensive contact and dialogue with both their Israeli and Hamas counterparts during the conflicts in 2008/2009 and 2012, and these mediations led to the successful brokering of ceasefires on both occasions – hence the frequent current references to the 2012 ceasefire.
But that channel has now closed. This time around, while Israel was reportedly consulted on the main points of the Egyptian ceasefire initiative, Hamas's leaders say they were not part of the negotiations that constituted the Egyptian initiative. In fact, they claim to have heard about it through media reports, rather than from any diplomatic source.
This is a major shift from the way Egypt has dealt with Hamas during previous conflicts with Israel – and it is largely a consequence of the Arab Spring uprisings.
Allies no more
As a close ally of the Islamist Muslim Brotherhood, one of the most influential religious organizations in the Muslim world, Hamas has made strategic choices that have been very damaging to its regional ties, and especially to its relationship with Egypt. Hamas has aligned itself with softly-leaning Islamist governments in Turkey and Qatar; in the process, it has shifted its allegiances away from former close supporters like Iran and Syria.