Iran

Iran began dismantling its nuclear program, but has way to go to come into full compliance: IAEA

Published 19 November 2015

The IAEA says that Iran has begun dismantling parts of its nuclear program, as agreed in a deal with the P5+1 powers – but that it has some way to go before coming into full compliance with the agreement. Iran has removed 4,500 centrifuges from the Natanz and Fordo site – but it has to remove 10,000 more before 15 December. Iran has added 460 kg low-enriched uranium to its stock – it now has 8.3 tons of low-enriched uranium – but that stock must be slashed to just 300kg by 15 December. If Iran does not meet in full these, and other, clauses in the agreement by 15 December, the economic sanctions will not be lifted.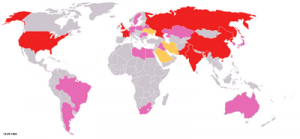 States with known nuclear weapons programs // Source: commons.wikimedia.org
The International Atomic Energy Agency (IAEA) said in its quarterly report, published on Wednesday, that Iran has started removing centrifuges and related nuclear infrastructure at the Natanz and Fordo uranium enrichment facilities.
In an agreement reached on 14 July between Iran and the P5+1 power – an agreement adopted by all parties on 18 October — Iran had agreed to scale back its nuclear program and accept IAEA oversight over its remaining nuclear program in exchange for a gradual lifting of the economic sanctions imposed on it by the international community.
Iran had committed to cutting by two-thirds the number of enrichment centrifuges, and pledged to change the design of a new reactor at Arak s it could not produce weapon-grade plutonium.
Deutsche Welle reports that the IAEA report, however, also shows that despite taking out about a quarter of its roughly 19,000 installed centrifuges, Iran still has a way to go before it reached full compliance with the agreement. The IAEA report shows that so far, Iran has removed 4,500 centrifuges at Natanz and Fordo, meaning it still has to take out about 10,000 more.
Also, the report shows that no preparatory work has taken place at the Arak reactor, and Iran's stock of enriched uranium gas has grown by about 460kg to about 8.3 tons (18,300lbs). The agreement calls for this stock to be slashed to just 300kg.
The IAEA also says it has not completed its investigation into reports that until 2003, Iran conducted research into developing nuclear weapons.
In order for the sanctions to begin to be lifted, the IAEA must report by 15 December that iran has complied with all aspects of the agreement.