Zika virus

Obama urges Americans not to panic, asks Congress for emergency funding

Published 8 February 2016

President Barack Obama has urged the American public not to panic about the Zika virus, and has asked Congress for more than $1.8 billion emergency funding to combat further infections. Speaking in an interview on CBS This Morning, Obama said: "The good news is this is not like Ebola, people don't die of Zika — a lot of people get it and don't even know that they have it."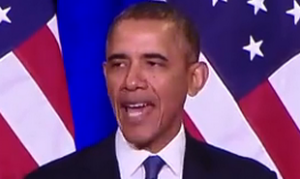 President Obama speaking // Source: commons.wikimedia.com
President Barack Obama has urged the American public not to panic about the Zika virus, and has asked Congress for more than $1.8 billion emergency funding to combat further infections.
Speaking in an interview on CBS This Morning, Obama said: "The good news is this is not like Ebola, people don't die of Zika — a lot of people get it and don't even know that they have it."
"[…] there appears to be some significant risk for pregnant women or women who are thinking about getting pregnant," he added.
ABC News reports thatthe virus is most feared due its links to microcephaly — a condition where babies are born with brain damage and undeveloped heads. More than 4,000 suspected cases of microcephaly have been reported in Brazil since October last year.
"And we don't know exactly what the relations there are, but there is enough correlation that we have to take this very seriously," Obama said, referring to Zika and pregnant women.
He said he would be asking Congress for close to $2 billion emergency funding. The White House made an announcement on Monday to say that the funding would be used to expand mosquito control programs, develop a vaccine and improve support for low-income pregnant women who have the virus.
"And so we are going to be putting up a legislative proposal to Congress to resource both the research on vaccines and diagnostics but also helping in terms of public health systems. But there shouldn't be panic on this, this is not something where people are going to die from it. It is something we have to take seriously," he added.
The Centers for Disease Control and Prevention (CDC) reports fifty confirmed cases among U.S. travelers from December 2015 to 5 February 2016, the White House said.
The only case of the virus being transmitted through sexual intercourse was reported in Texas. States such as Florida have declared Zika as a public emergency last week, and the World Health Organization (WHO) warned that Zika is a "global" health emergency.
Brazilians planning on attending the Carnival have been warned against kissing strangers after the virus was found in saliva.