Syria

Russia, Syria triggered refugee crisis to destabilize Europe: NATO commander

General Phil Breedlove, NATO's Supreme Allied Commander for Europe and head of the U.S. European Command, said Russia and Syria are indiscriminately bombing Syrian civilians to drive the refugee crisis and "weaponize migration."He said that weapons such as barrel bombs, widely used by the Assad regime against Sunni civilian population, have no military value, and are used solely to terrorize those living in rebel-held territories. He told the Senate Armed Services Committee that the destruction formed part of a deliberate strategy by Russia and the Assad regime to "get them on the road" and "make them a problem for someone else."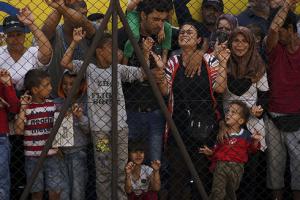 Overwhelming numbers of Syrian refugees swamp European nations // Source: commons.wikimedia.org
General Phil Breedlove, NATO's Supreme Allied Commander for Europe and head of the U.S. European Command, said Russia and Syria are indiscriminately bombing Syrian civilians to drive the refugee crisis and "weaponize migration." The general said that weapons such as barrel bombs, widely used by the Assad regime against Sunni civilian population, have no military value, and are used solely to terrorize those living in rebel-held territories.
He told the Senate Armed Services Committee that the destruction formed part of a deliberate strategy by Russia and the Assad regime to "get them on the road" and "make them a problem for someone else."
"Russia's entry into the fight in Syria has exacerbated the problem, changing the dynamic in the air and on the ground," General Breedlove told lawmakers.
"Despite public pronouncements to the contrary, Russia has done little to counter Daesh (ISIS) but done a great deal to bolster the Assad regime and its allies.
"Together Russia and the Assad regime are deliberately weaponizing migration in an attempt to overwhelm European structures and break European resolve.
"All genuinely constructive efforts to end the war are welcome but actions must speak louder than words."
DW reports that in the run-up to the "temporary cessation of hostilities" that started on Saturday, Russian and Syrian forces were accused of deliberately targeting hospitals and civilian infrastructure in possible war crimes.
In a report released earlier today (Thursday), Amnesty International claimed it has "compelling evidence" of at least six deliberate attacks on medical facilities in the Aleppo governorate over the past twelve weeks.
The Assad regime's advance triggered a new wave of refugees into Turkey as asylum seekers continued to arrive on Greek islands at about ten times the rate they were during the same period in 2015, which was a record-breaking year.