Russian hacking

Russian hacking of 2016 U.S. elections threatens to "destroy democracy": Sen. McCain

Published 21 December 2016

Senator John McCain (R-Arizona) said that Russia's involvement in hacking U.S. political institutions and processes during the 2016 presidential election campaigns threatens to "destroy democracy" in its current form. The senator for Arizona warned there may soon be an "unraveling of the world order" and criticized the "absolute failure of the American leadership" to improve relations with Moscow. "There's no doubt they were interfering and no doubt it was a cyber-attack. The question now is how much and what damage and what should the United States of America do? And so far, we've been totally paralyzed," he said. "The truth is, they are hacking every single day."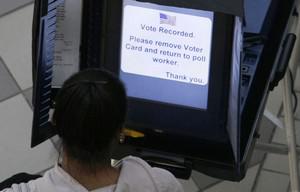 Hacking by foreign actors may endanger demorcracy // Source: theconversation.com
Senator John McCain (R-Arizona) said that Russia's involvement in hacking U.S. political institutions and processes during the 2016 presidential election campaigns threatens to "destroy democracy" in its current form.
The senator for Arizona warned there may soon be an "unraveling of the world order" and criticized the "absolute failure of the American leadership" to improve relations with Moscow.
CNN reports that last week, McCain joined with three other senators in warning of the threat of Russia "targeting America's democratic institutions," and called for lawmakers on both sides of the aisle to work together to counter the perceived threat.
"This is the sign of a possible unraveling of the world order that was established after World War II, which has made one of the most peaceful periods in the history of the world," McCain told CNN.
"We're starting to see the strains and the unraveling of it, and that is because of the absolute failure of American leadership.
"This is serious business. If [Russia is] able to harm the electoral process, they may destroy democracy, which is based on free and fair elections.
"When America doesn't lead, a lot of other bad people do."
"This is serious business. If they're able to harm the electoral process, they may destroy democracy, which is based on free and fair elections," he said.
McCain sent a letter Sunday to Majority Leader Mitch McConnell (R-Kentucky), asking him to create a Senate select committee to probe Russian hacking.
"Cyber is the rare kind of all-encompassing challenge for which the Congress's jurisdictional boundaries are an impediment to sufficient oversight and legislative action," McCain wrote in the letter, cosigned by Senators Lindsey Graham (R-South Carolina), Democratic Leader Chuck Schumer (D-New York), and Jack Reed (D-Rhode Island), the top Democrat on the Senate Armed Services Committee.
"Only a select committee that is time-limited, cross-jurisdictional, and purpose-driven can address the challenge of cyber," the four senators wrote. "We believe it is justified by the extraordinary scope and scale of the cyber problem."
McCain told Jake Tapper on CNN's "State of the Union" that responsibility for cyber-security is spread too broadly today.
"The responsibilities for cyber is spread over about four different committees in the Senate, and each doing their own thing, frankly, is not going to be the most efficient way of arriving at a conclusion," he said.
"We need a select committee. We need to get to the bottom of this. We need to find out exactly what was done and what the implications of the attacks were, especially if they had an effect on our election," McCain said.
"There's no doubt they were interfering and no doubt it was a cyber-attack. The question now is how much and what damage and what should the United States of America do? And so far, we've been totally paralyzed," he said. "The truth is, they are hacking every single day."
The U.S. intelligence community has concluded in early December that Russian government hackers launched a broad cyber campaign earlier in 2016 aiming to weaken Hillary Clinton's presidential bid. When Donald Trump became the Republican nominee, the Russian government's hacking campaign intensified because Moscow viewed Trump as a candidate whose policies would best serve Russia's interests: His foreign policies would weaken the U.S.-led alliances, which were created in the late 1940s and early 1950s to contain the Soviet union; his mercantilist economic policies would weaken the U.S.-led liberal international economic order which served U.S. economic interests; and his divisive domestic politics would weaken and further polarize the American society.
Obama has ordered a "full review" of the Russian hacking campaign. His homeland security adviser Lisa Monaco said: "We may have crossed into a new threshold." The report will be released before Obama leaves office on 20 January.