Nuclear war

"North Korea crisis could spark a global chain of nuclear strikes": Luxembourg Forum

Published 10 October 2017

Leading international experts on nuclear non-proliferation and world leaders met Monday in Paris for the International Luxembourg Forum on Preventing Nuclear Catastrophe to express their concern on the escalating crisis in nuclear weapons control. During his opening remarks, Tony Blair warned that "the proliferation of nuclear weapons is the most serious threat today to the fate of humankind." Blair further said that "Proliferation begets further proliferation leading to risk of additional terrorist capability."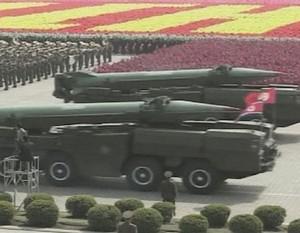 North Korean mobile missile launchers on parade // Source: yahoo.com
Leading international experts on nuclear non-proliferation and world leaders met Monday in Paris for the International Luxembourg Forum on Preventing Nuclear Catastrophe to express their concern on the escalating crisis in nuclear weapons control.
More than fifty former senior leaders and weapon experts met in the context of the Luxembourg Forum's 10th anniversary conference to hear Dr. Viatcheslav Moshe Kantor, former British prime minister Tony Blair, former U.S. secretary of defense William Perry, former WMD inspector Hans Blix and other experts to discuss the proliferation of nuclear weapons in context of the North Korea escalation and concerns over the Iran nuclear deal.
Speaking at the opening of Monday's two-day conference, Kantor, president of the Luxembourg Forum, warned that "the North Korea crisis could spark a global chain of nuclear strikes," a reality made more likely given "that the possibility of a deliberate provocation by North Korea cannot be dismissed entirely." With the added risk posed by key regional partners and fellow new nuclear states Pakistan and India, "even a single nuclear strike could trigger an unpredictable spiral of nuclear reprisals", added Kantor.
On Iran, Kantor stated that "undoing the Iranian nuclear deal, concluded between the 'six' and Tehran, would be unforgivable. We have to ensure that Iran fully complies with the obligations it pledged to and now the most important issue is what happens when the deal is concluded."
The Luxembourg Forum says that the agenda paid particular focus to prioritizing Russian-U.S. relations, in the context of nuclear disarmament and international security concerns, following the news last month that former U.S. secretary of state Henry Kissinger joined the International Luxembourg Forum's Supervisory Board.
"Leaders of the leading nuclear states must resume cooperation on securing weapons of mass destruction, including nuclear material security, to prevent the threat of catastrophic terrorism. In particular, emphasis should be given to improving the security of radiological materials to counter the growing danger of terrorist acts using a dirty bomb," added Kantor.
"We believe that the two nuclear superpowers, Russia and the United States, should be the first to take major steps to strengthen the nuclear non-proliferation regime," said Kantor. "The balance of forces between these two countries, the two nuclear superpowers, has always been an essential precondition for global strategic stability," he concluded.
During his opening remarks, Tony Blair warned that "the proliferation of nuclear weapons is the most serious threat today to the fate of humankind." Blair further said that