Ebola

Congo Ebola outbreak reaches 1,600 cases, as armed clashes impede health work

The Ebola outbreak total in Congo reached the 1,600 mark, as clashes between military forces and armed militia groups flared in the city of Butembo, at the heart of the Ebola-affected region.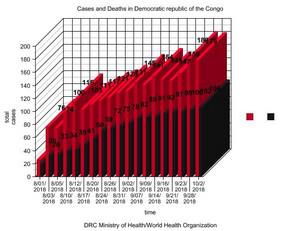 Congolese Ebola cases (red) and deaths (black) between 8-1-2018 and 10-2-2018 // Source: commons.wikimedia.org
With the outbreak hot spot of Butembo still reeling from recent altercations involving a motorcycle taxi, clashes between military forces and armed militia groups flared in parts of the city today as the outbreak total reached the 1,600 mark.
Response curtailed for 4th day
A report from Radio Moto Butemo-Beni said Democratic Republic of the Congo (DRC) armed forces and police clashed with militia members in Butembo this morning, resulting in 10 deaths, which included some attackers and a police officer. The militia members dispersed, and their motives aren't clear. The city's mayor asked locals to work with the police to find the attackers.
According to a Reuters report, security forces repelled the attackers before they could reach the city's Ebola treatment centers and made several arrests.
Meanwhile, outbreak response activities weren't able to fully resume yesterday because of a rumor spreading on social media that claimed a response vehicle struck and killed a motorcycle taxi driver, raising the threat of public protests, the DRC's health ministry said in its daily update Tuesday.
The rumor followed an incident on May 3 in which motorcycle taxi drivers apparently tried to attack a safe and dignified burial team, during which two drivers were shot and killed, sparking a demonstration in Butembo that stopped response activities.
The taxi drivers' association denied the rumor, but did say a driver was in an accident but did not die and continued to work that day. "Since the beginning of May, this is the fourth consecutive day in which the teams have not been able to carry out all the necessary response activities to Butembo," the ministry said.
At a meeting Tuesday between the city's urban safety committee and motorcycle taxi drivers, the bikers said they have been infiltrated by outsiders who are responsible for incidents with a goal of destabilizing the city.
Plans are in the works to take a census of all legitimate taxi drivers, and the safety committee warned that if more incidents continue, they will take tougher action against the drivers.
In yet another security incident, the ministry said