Food safety

Easing contamination fears in Japan's food industry

With much of Japan's manufacturing sector, land, and critical infrastructure badly damaged from the March 11 earthquake and tsunami, dairy and rice manufacturers have struggled to produce enough to feed the nation; Japan produces all of its own milk, rice, and yogurt products, but domestic plants are operating far below full capacity; shortages may persist into the summer; as production ramps up, fears of contamination from radiation leaked from the Fukushima Daiichi nuclear power plant may dampen consumption; one analyst suggests that Japan institute a food tracking program that will allow consumers to track the production of food every step of the way to help ease fears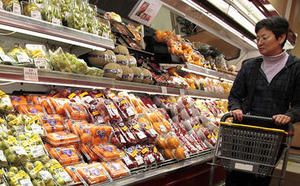 Concern mounts over food contamination in Japan // Source: care2.com
With much of Japan's manufacturing sector, land, and critical infrastructure badly damaged from the March 11 earthquake and tsunami, dairy and rice manufacturers have struggled to produce enough to feed the nation.
Japan produces all of its own milk, rice, and yogurt products, but domestic plants are operating far below full capacity. Meiji Holdings Co., Japan's largest producer of dairy products, is functioning at 20 to 50 percent of its pre-earthquake capacity.
Production has primarily been hampered by rolling blackouts that make it difficult to complete the production process before the dairy products spoil. In addition, milk and yogurt manufacturers have had trouble procuring containers as the tsunami crippled factories that produce plastics for the containers.
With such low production, shelves at grocery stores have remained bare. Food shortages may persist for several more months, as rolling blackouts in the Tokyo area are expected to continue through the summer months.
Leslie Hand, the research director for IDC Retail Insights, speculates that these shortages may lead Japan to reconsider its protectionist tariffs on these goods and allow more imports to increase supplies.
Hand is also careful to point out that in the long run, as Japan's agricultural industry recovers and ramps up production, fears of contamination from radiation leaked from the Fukushima Daiichi nuclear power plant may dampen consumption.

While it is difficult to conjecture what the impact of the ongoing nuclear disaster will have on consumption of seafood, rice, and leafy green vegetables, an examination of previous disasters may prove enlightening.

Hand noted that after BP oil spill in the Gulf of Mexico sent billions of gallons of oil spewing into the sea, consumers made a conscious decision to reduce consumption of seafood.

According to Seafood Business, a trade magazine, 23 percent of consumers cut back on all seafood purchases and 78 percent of them specifically avoided seafood from the gulf. In addition, a study by the Louisiana Seafood Promotion and Marketing Board showed that 48.3 percent of consumers were eating less seafood overall.

To encourage the consumption of seafood, the Gulf of Mexico Reef Fish Shareholders' Alliance launched a program to let consumers know exactly where a fish was caught.

The program, called, Gulf Wild, attaches a unique tag to the gill of every fish that will assure shoppers that their fish was tested for safety and was caught in an environmentally sustainable way.

Hand encourages Japan to follow suit, suggesting that a similar program would help ease fears over contaminated foods.

"Exposing this kind of information to consumers, on demand, seems to be a reasonable way to allay fears, whether warranted or not, about food safety," Hand writes.

She adds, "It also provides every trading partner in the chain an opportunity to demonstrate their attention to issues including sustainable seafood harvesting and geographic/biologic risks."

Hand says that Japan already requires all parties involved in the beef production chain to keep meticulous records on where they received products from and where they sent them to. This process is known as "one up, one back" traceability.

Hand suggests that it would be fairly easy to extend these tracing capabilities for "seafood and other food including rice, dairy and leafy vegetables produced, packed and shipped from the impacted region."

But, according to Hand many companies do not comply with government regulations for traceability requirements and that the one up, one back rule is only suggested and not mandatory.

In the United States, Congress recently passed a food safety bill that would allow consumers to track an individual item of food's entire production cycle from the field to the supermarket shelf.

The new law contains a provision that requires every part of the complex United States food supply chain to be able to quickly trace where they received a food item from and where they sent it to.

This provision is designed to aid in the speedy identification and recall of contaminated food items that have caused deadly food-borne outbreaks. It also helps to assure consumers that their food was produced safely by increasing transparency.